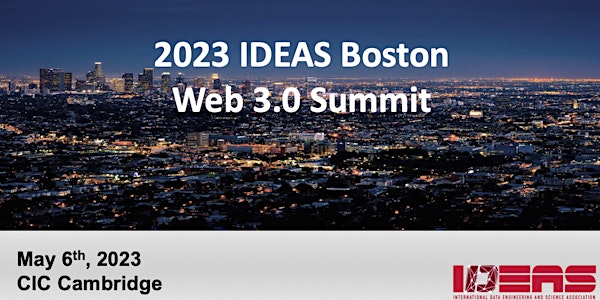 Our GoalTo create a community, which can connect blockchain leaders, developers, and enthusiasts
What We DoHave data science and AI join together with blockchain, to create the future of the word
What You Can ExpectAn elite conference on technology and practices of the blockchain. Experts from all around the world will meet together and discuss the trend and future
About Web 3.0 Summit The IDEAS (Int'l Data Engineering and Science Association – 501.c.3 Non-profit ) is a learning platform designed to connect Web 3.0, AI & data science enthusiasts. As a professional non-profit organization dedicated to data science and AI, we have hosted numerous conferences across the U.S. in the past few years. We are excited to witness the revolutionary progress in the Web 3.0 world. When data science and AI join together with blockchain, we believe it's the future of the Internet. The goal of our conference is to create a community, which can connect blockchain leaders, developers, and enthusiasts. You are expecting an elite conference on the technology and practices of the blockchain. Experts from all around the world will meet together and discuss the trend and future.
Visit www.joinideas.org for more details
Time and LocationSummit 12PM-5PM @CIC Cambridge
Social Mixer 6:30PM-8:30PM @CIC Cambridge
Ticket are separated.