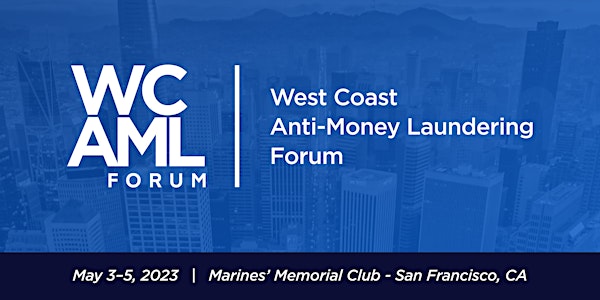 30th Annual West Coast AML ForumMay 3– 5, 2023*(*optional, complimentary Blockchain Investigations training from 4pm on May 2, 2023)
Marines' Memorial Club – San Francisco, CAThe West Coast Anti-Money Laundering Forum (WCAML) is an annual conference that fosters a confidential and cooperative exchange of knowledge and ideas in the fight against money laundering, terrorist financing, and other financial crimes. Attendees include financial crimes compliance professionals, federal and state regulators, and the law enforcement and intelligence communities.
The conference is planned and executed by a group of volunteers from a cross-section of the public and private sectors. The agenda is diverse and representative of the Bay Area's unique combination of traditional financial services, fintech, and cryptocurrency firms, and their partnerships with regulators and law enforcement. The event itself is closed to the media and does not retain sponsors, allowing a level of candor not seen at other events.
AgendaA final agenda will be posted in the coming weeks. Key sessions include:
• Hands-on blockchain investigations training (optional, afternoon of May 2)
• Law enforcement case studies
• Artificial intelligence and its application to AML
• Content moderation
• Fraud and dlder abuse
• Regulatory trends and hot topics
• International law enforcement trends
• Crypto challenges and opportunities
• Trends in violent extremism
• Industry-leading keynote speakers
• … and more!
Hotel & Travel InformationThe West Coast AML Forum has reserved a room block at the Marines' Memorial Club. Rooms can be booked:
• Online at the Marines' Memorial Club websiteffer code WCAMLF2023
• By phone at 800-562-7463 or 415-673-6672. Ask for the West Coast Anti-Money Laundering Forum block
• By email to reservations@marinesmemorial.org
• By fax to to 415-441-3649
These rates will be made available three days pre- and post-official event dates subject to availability. Additional rate information, cancellation policy details, and amenities information can be found on the Marines' Memorial Club's website.
If you have any difficulty, please reach out to us at info@wcamlforum.org.
Continuing EducationAttendees of the WCAML Forum will receive continuing education credits towards industry certifications. The number will be confirmed by WCAML prior to the event.
Orders & Cancellation PolicyCancellations received up to 30 days before the event will be issued a full refund. With the exception of cancellations related to COVID-19, cancellations received within 30 days of the event will not be issued a refund, but are eligible for a credit for future events. Registration may also be transferred to someone else in the same organization.
Note that if you feel ill the day of the event or during the event, please stay home or return to your home or hotel. You can contact WCAML staff to discuss a credit for future events.
To obtain a credit for a future WCAML forum event, send an email to info@wcamlforum.org.
Paying by check?We prefer payment by credit or debit card via the website. However, if your organization requires payment by check, please reach out to us at info@wcamlforum.org. If you pay by check, please make checks payable to "West Coast Anti-Money Laundering Forum".
Mail checks to:
West Coast Anti-Money Laundering Forum
74133 El Paseo, Suite 1
Palm Desert, CA 92260
Please include the name of the buyer on the check.