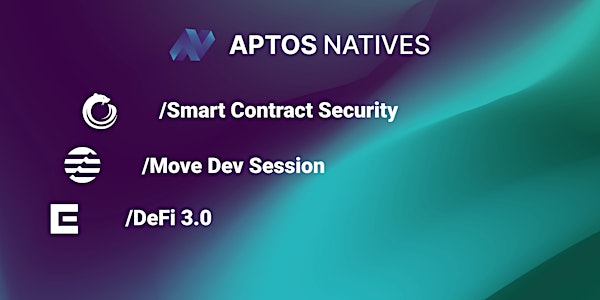 ABOUT US
Aptos Natives is a community focused on developer and founder education. Based in New York, the group invites industry experts on a regular basis on stage, to share their stories, insights and best practices with the community.
EVENT DETAILS
On our upcoming Aptos community event, we will have a hands-on dev session at first, led by Charles, one of the engineers working at Aptos Labs. Charles will teach you how to build an Aptos Name Service with Move. It's a devs-only session and requires you to bring your laptop.
At 7.10pm, we are going to open up the room to a wider audience and start with our speaker sessions. We have Econia sharing their founding story and how they built the first Order Book-based DEX on Aptos. The third session is going to be about security best practices when building smart-contract on Aptos and why the Move Prover is so important. Lastly, we will have a secret special guest from Aptos giving a few words to the community himself.
AGENDA
6.00pm Opening & mingle w/ the NYC APTOS Community!
6.20pm Intro
6.25pm Move Dev Session – Aptos Name Service by Charles, Aptos Labs
7.10pm Founding Story of the first CLOB DEX on Aptos by Alex, Econia
7.35pm Security Best Practices & The Move Prover by Robert, OtterSec
8.00pm Closing Words by Special Guest, Aptos Labs
8.10pm Meet & Mingle w/ the NYC APTOS Community!
9.45pm Closing
SPEAKERS
Charles, Aptos Labs
Charles has spent eight years as a software engineer at companies like Intel, Citadel and most recently, a five year tenure at Google. Charles started developing in Web3 full time in 2022 and created Aptos Names Service. He ultimately joined the Aptos Labs team and is continuing to grow the Aptos Names product.
Alex, Econia Labs
Alex is the author of the Econia protocol and co-founder of Econia Labs. With two degrees in Mechanical Engineering, most recently from Stanford in 2017, Alex has experience in dynamics, sensor fusion, state machine design, and data science. Before getting into crypto, Alex was an embedded systems engineer and wrote high-assurance navigation algorithms for aerospace applications.
Robert, OtterSec
Robert is the founder of OtterSec. With deep expertise across the Move ecosystem, Robert has reported numerous security vulnerabilities in both Move projects and the underlying VM. He works closely with passionate teams to provide a holistic and collaborative approach to security. Prior to crypto, Robert was involved in mobile vulnerability research.
Aptos Labs
Aptos is a Layer 1 blockchain bringing more people into web3 through a better user experience and unparalleled technology. Founded by a highly-accomplished team of creators, researchers, designers, and builders, Aptos is committed to delivering universal and fair access to decentralization for everyone. Aptos' breakthrough technology and programming language, Move, are designed to improve developer efficiency and empower builders to create the best applications. Having now raised $400M, Aptos is backed by top-flight investors including a16z, Jump Crypto, Katie Haun, Multicoin Capital, PayPal Ventures and Coinbase Ventures.
Econia
Econia is a hyper-parallelized on-chain order book DEX for APTOS. After a much-anticipated v4 testnet release and three security audits from TOP-TIER auditing firms, Econia Labs is set to launch their high-performance order book on Aptos in the next months (if not weeks). With Econia Labs' founding members working closely alongside Aptos core engineers and making community contributions to the Aptos protocol, we can expect a highly talented team pushing the boundaries of DeFi.
OtterSec
OtterSec's codebase audits power ideas if the blockchain industry. Composed of a team of independent security researchers, OtterSec has a proven track record in both Web3 and traditional security. Working directly with both the Aptos Foundation and top projects such as Econia, Pontem, and more, OtterSec secures billions of dollars both on and off-chain — giving you the confidence to deploy.
SPONSORS
This event is brought to you by Aptos Labs and OtterSec.
Learn more about Aptos Network: aptosfoundation.organd Aptos Labs: aptoslabs.com
As well as OtterSec on osec.io
LOCATION
We are still finalizing the location details and update you shortly. Please watch this space and your emails.
REGISTRATION
RSVP required – please register by getting your Eventbrite ticket. This is a limited-availability event.