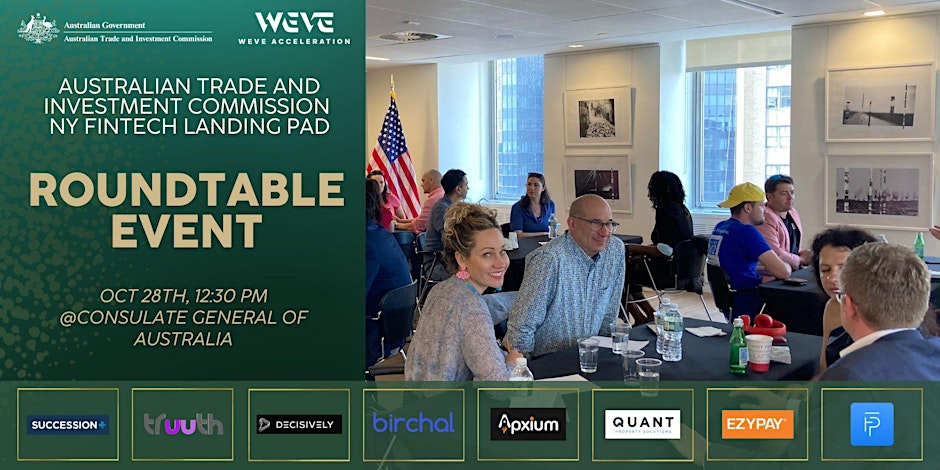 Here is how the event is going to work:
• The startups will rotate from table to table in 20-minute intervals
• The first 3-5 minutes will be dedicated to a "quick pitch"
• The remaining 15 minutes will be dedicated to your Q&A, feedback, and US market insights.
• Once the 20 minutes are up, a new startup will join your table (you will meet a total of 4 startups)
The participating companies are:
1. Birchal: Birchal is Australia's leading equity crowdfunding platform, licensed to host offers under Australia's relatively new crowd sourced funding (CSF) regime. We simplify fundraising for forward-thinking businesses, making it possible for early-stage businesses to raise equity capital from the public for a fraction of what it has cost historically, and opening up a new asset class to retail investors at scale for the first time. We're now building an ecosystem of products and services on four key pillars (Primary Capital; Secondary Trading; Stakeholder Engagement; and Infrastructure) to make early stage businesses an efficient and effective asset class for wealth creation
2. EzPay: Ezypay is an award-winning fintech company that specialises in processing subscription, recurring and instalment payments. Ezypay was founded in Australia in 1996 and has grown to process in 9 countries across the Asia Pacific region. Our modern cloud-based payment platform offers a suite of easy-to-use subscription management services to process recurring and real-time payments. Ezypay has a range of technology platform partners who have integrated the capabilities of Ezypay, servicing industries such as Health & Fitness, Education, Real Estate and many others.
3. Succession Plus: Business Succession and Exit planning software to help SME business advisers maximise the value of their business and achieve a successful exit. Capitaliz is a digital platform that helps identify, protect, accelerate and unlock the value held in privately owned businesses. our platform provides a proprietary 12 step methodology to maximise and unlock value using a consistent assessment and valuation algorithm to produce a 50-page Insights report including key value drivers, risks and value gap analysis as well as an implementation roadmap.
4. Quant Property Solutions: We've built software for banks that lessens loss given default during residential real estate foreclosures sales…ensuring more for those with less
5. Apxium Technologies: Apxium is a SaaS + Payments business that automates the entire Accounts Receivable + Payments Processing + Financing workflows for mid to large accounting and law firms.
6. Fin-Pay Technology: FIN-PAY levels the playing field for every merchant on the planet by replacing costly, clunky legacy hardware with a simple payment app. Through the app, merchants can accept any payment – cards, digital wallets, BNPL, QR codes, SMS and crypto. Merchants are over-burdened by outdated, legacy payment hardware that's expensive, hard to update, and reduces their access to the digital economy. FIN-PAY's vision is to transform every device on the planet into a POS terminal, delivering cheaper, broader access to the payments ecosystem through acceptance of multiple forms of payment in one place, fast onboarding, xero costs and maintenance.
7. Truuth: Truuth's mission is to verify the identity of the human behind the device during online interactions. We apply Artificial Intelligence (AI) and Machine Learning (ML) to provide the highest possible assurance that an online user is genuine and present. Our SaaS solutions are white labelled by enterprise clients to ensure compliance with Know Your Customer (KYC) and Anti-Money Laundering and Counter-Terrorism Financing (AML/CTF) obligations. Through our identity verification and user authentication solutions, we mitigate a wide range of cyberattacks including presentation attacks, insider threats, man-in-the-middle attacks, and ransomware attacks.
8. Decisively: Decisively makes it easier, faster, and more intuitive for organisations in regulated industries to make better decisions. We remove the barriers between the complex rules that exist in legislation, policy and regulation, and the systems that people use when seeking to engage them. By making it simpler to extract complex decision logic from source rules material, making them more accessible and faster to update, we enable the ideal customer experience that organisations who operate within heavily regulated industries have been searching for.