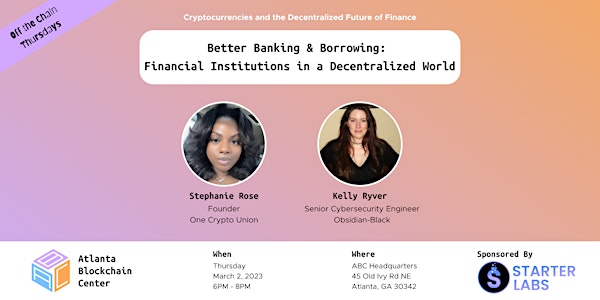 Our mission at Atlanta Blockchain Center is to be the catalyst for Atlanta's emergence 
as the premier blockchain innovation hub globally through cultivating entrepreneurship, inclusivity and education. ABC is a place to build community and learn, and so we'll host an event each and every Thursday at our co-working space in Buckhead – Atlanta's first co-working DAO – featuring leading experts on various blockchain content themes.
Join us. It's time to build 🚀
This week's theme is:
Cryptocurrencies and the Decentralized Future of Finance
Cryptocurrency and distributed ledger technologies are rapidly transforming the financial services landscape – as a new asset class, a payment method and a disruptive technology. How are blockchain and cryptocurrencies shaping the future of money?
This week's topic is:
Better Banking & Borrowing: Financial Institutions in a Decentralized World
Technology is one of the biggest threats to the banking sector. Thanks to blockchain technology, cryptocurrency has morphed into an important innovation in financial services. Both large financial institutions and crypto-natives are working on blockchain solutions to stay on top of this trend because they know it has the potential to disrupt the banking industry.
According to Fiserv, 61% of millennials and Gen Z want their bank or credit union to hold cryptocurrency, 56% of millennials & 46% percent of Gen Z are quite familiar with cryptocurrencies, and over 50% are interested in receiving crypto as a dividend payment from their financial institution. So how do we properly serve them? Let's hear from our speakers to learn more.
About the Speakers:
Stephanie Rose is a dynamic Retro-Inspired Millennial Motivationalist, Strategist, Entrepreneur, and community organizer. She's been a Professional Brand and Marketing Specialist for over 10 years. In May 2019, Stephanie launched One Crypto Union (OCU), a decentralized global financial institution built on blockchain technology which offers various digital asset account and lending solutions to OCU members worldwide. Similar to a traditional credit union, One Crypto Union offers simple and convenient ways to become a member through a mobile banking app, referral codes, and Crypto Kiosks. OCU will offer members competitive lending products like Crypto credit cards and Crypto Auto Loans.
Kelly Ryver is a Senior Cybersecurity Engineer at Obsidian-black. She is a security architect in Web2.0 space, but over the course of more than twenty years, has served in roles ranging from network engineering to management and strategy consulting. She took an interest in blockchain while at IBM, as the company was working on blockchain and distributed ledger technology for a global shipping client. In 2022 Kelly became more involved in working in Web3.0 with smart contracts, NFTs and decentralized finance. When she's not working, she spends her time learning more about token economics and where fiscal policy is headed for Web3.
-
Sponsored by Starter Labs
–
The event will be live streamed: https://www.youtube.com/@atlantablockchaincenter8935/streams
Food and beverage will be provided. Venue capacity is limited.
Parking Guide – Join Discord for Assistance
• Front of the Building ( facing Old Ivy Rd )
• Side of the Building ( facing NFT Mural )
• DO NOT Park at the bottom of the lot ( facing House of Fitness )