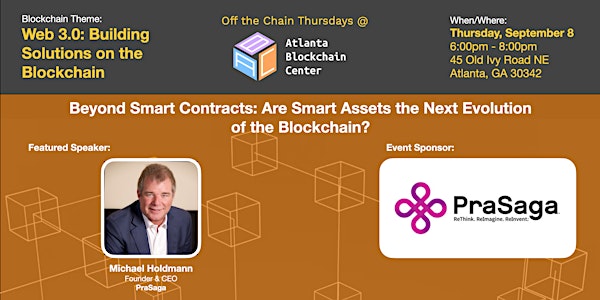 Our mission at Atlanta Blockchain Center is to be the catalyst for Atlanta's emergence 
as the premier blockchain innovation hub globally through cultivating entrepreneurship, inclusivity and education. ABC is a place to build community and learn, and so we'll host an event each an every Thursday at our co-working space in Buckhead – Atlanta's first co-working DAO – featuring leading experts on various blockchain content themes.
Join us. It's time to build 🚀
This week's theme is:
Web 3.0: Building Solutions on the Blockchain
How can you unlock the promise of Web 3.0? We'll roll up our sleeves to help you build solutions for a new decentralized internet that is powered by blockchains and tokens, forces interoperability and gives builders and users property rights.
This week's topic is:
Beyond Smart Contracts: Are Smart Assets the Evolution of the Blockchain?
PraSaga is looking at blockchain differently. Let's explore the evolution.
In 2008, Satoshi Nakomoto writes the Bitcoin white-paper. The following year the first bitcoin block was mined, birthing decentralized technology. This forever changed the world's view of the meaning and value of fiat currencies while simultaneously marking the beginning of decentralized monetary systems.
In 2015, Ethereum births the first smart contract block that enables decentralized apps and trustless peer-to-peer transactions without 3rd Party certification; a new paradigm of entrepreneurship, micro communities and economies, tokens, and more. Decentralized finance is born.
But today, in 2022, PraSaga is pioneering a different approach. Smart contracts have limitations for scaling blockchain solutions. Thus, PraSaga has introduced the first global operating system, enabling smart assets.
– What is a smart contract? What are its advantages? What are its limitations?
– What is a smart asset? What exciting possibilities does this new innovation bring?
We are moving to a world in which communications not only of people, but machines, cars, refrigerators, objects, are all becoming interconnected. The need to provide a secure real-time, truly interoperable capability between devices is happening, and we are seeing this in Smart Cities and the Internet of Things.
PraSaga is building that network with open standards and through its community driven institute and providing the governance to bring others onto the networks and accelerate commercial adoption.
Join us for this fascinating discussion of the evolution of blockchain technology!
Featured speaker:
Michael Holdmann – Founder & CEO, PraSaga
Michael is an IoT and Smart Cities global industry thought leader the solution to the root of our problems is to decentralize networks to ensure the citizen is in power, not large corporations. His esteemed careers includes executive roles in telecom, networking and software development.
–
Stream the Event via Youtube
Food and beverage will be provided. Venue capacity is limited.
Parking Guide – Join Discord for Assistance
• Front of the Building ( facing Old Ivy Rd )
• Side of the Building ( facing NFT Mural )
• DO NOT Park at the bottom of the lot ( facing House of Fitness )