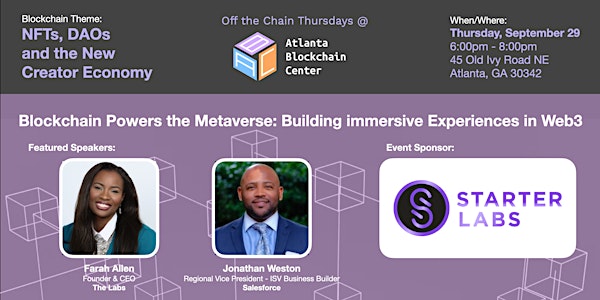 Our mission at Atlanta Blockchain Center is to be the catalyst for Atlanta's emergence 
as the premier blockchain innovation hub globally through cultivating entrepreneurship, inclusivity and education. ABC is a place to build community and learn, and so we'll host an event each an every Thursday at our co-working space in Buckhead – Atlanta's first co-working DAO – featuring leading experts on various blockchain content themes.
Join us. It's time to build 🚀
This week's theme is:
NFTs, DAOs and the New Creator Economy
NFTs and DAOs are the building blocks for a new ownership economy for artists, musicians and other creators. What are the implications and opportunities when media structures are mutually owned by the creators and consumers themselves?
This week's topic is:
Blockchain Powers the Metaverse: Building immersive Experiences in Web3
Once a niche concept beloved of tech enthusiasts, the idea of a centralized virtual world, a "place" parallel to the physical world, has careened into the mainstream landscape , as epitomized by Facebook's decision to rebrand as Meta. Millions of people are spending hours a day in virtual social spaces like The Sandbox, Dencentraland, Roblox and Fortnite.
But the potential impact of the metaverse is much greater than providing an enhanced virtual reality experience. It can provide a shared environment and economy for all people, regardless of their location, allow users to buy, sell, and trade products and services, and provide creators and companies with an additional source of income. Interest in purely digital ownership has spiked dramatically, with non-fungible tokens (NFTs) and cryptocurrencies making headlines. Virtual productivity platforms are growing too, with Facebook and Microsoft announcing new ways to collaborate online. Hybrid offices, video-based education and online social communities are just a few of the ways in which more of our lives—for better or worse—is spent in digital spaces. Nike is even preparing to sell virtual sneakers!
Farah Allen, founder and CEO of The Labz, is on the forefront of unlocking the potential of the metaverse for her clients. The Labz helps business leaders and creatives of all types compete and thrive in the metaverse era with a platform where they can design bespoke digital spaces, tailored to their needs and visions, that facilitate more impactful audience engagement than what's possible with standard websites or video conference, or even in real-life experiences.
Salesforce is one of those pioneering clients that are working with The Labz. Jonathan Westin, a Regional Vice President for the ISV Business Builder Program at Salesforce, is exploring the role of metaverse technology to drive marketing, businesses, sales and e-commerce for his clients.
Join us for insightful conversation about building immersive experiences in Web3!
Featured speakers:
Farah Allen – Founder & CEO, The Labz
Jonathan Weston – Regional Vice President – ISV Business Builder, Salesforce
–
Stream the Event via Youtube
Food and beverage will be provided. Venue capacity is limited.
Parking Guide – Join Discord for Assistance
• Front of the Building ( facing Old Ivy Rd )
• Side of the Building ( facing NFT Mural )
• DO NOT Park at the bottom of the lot ( facing House of Fitness )