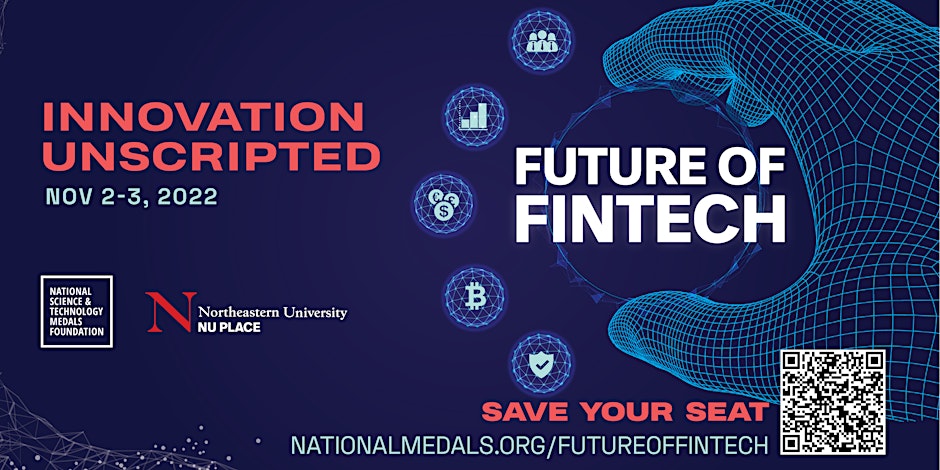 The National Science and Technology Medals Foundation invites you to join us for Career Seminar – Innovation Unscripted: Future of Fintech Innovation Unscripted with Industrial Light & Magic
The National Science and Technology Medals Foundation (NSTMF) will host two days of events featuring leaders in Fintech on November 2-3 of 2022 in partnership with NU PLACE and Northeastern University.
On November 2, Northeastern students will be invited to attend a career-oriented seminar by Daley and Associates, LLC. Come to this event to learn what recruiters look for, how to interview, and how to make yourself stand out as an applicant! There will be a Q&A as well as an optional resume review after the main career seminar presentation.
On November 3, Northeastern students and members of the Boston metro area community will be invited to the keystone Unscripted panel event. The panel discussion will connect esteemed speakers with undergraduate students, young professionals, and the general public in a fireside-chat style discussion. Following the panel event, all participants are invited to a catered networking reception.
During the fireside chat, a panel of Fintech leaders will speak to breakthroughs or achievements in their career. This panel of STEM Experts will come from diverse backgrounds that reflect the student body of Northeastern and will speak to students about their challenges and triumphs. The discussion will explore the Experts' career and passions, showing students that the humans behind the greatest scientific achievements in our lifetime are also people with success, failure, relationships, and community.
If you would like to attend the panel event, sign up through this eventbrite link: https://www.eventbrite.com/e/panel-event-innovation-unscripted-future-of-fintech-registration-408866409437
This event is part of the NSTMF's Unscripted series and part of our larger effort to build an inclusive coalition of inspired STEM students. By highlighting voices often left unheard in the STEM community, we show audiences that there isn't one "right" way to build a STEM career.
By registering for this event and attending, all attendees consent to photos and videos to be taken at the event and to be used for NSTMF purposes.
Register now to save your seat for our career seminar on 11/2!