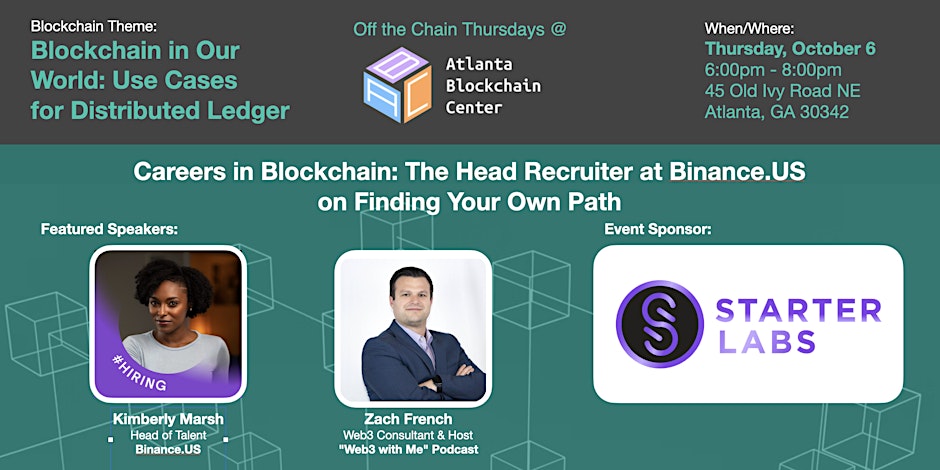 Our mission at Atlanta Blockchain Center is to be the catalyst for Atlanta's emergence 
as the premier blockchain innovation hub globally through cultivating entrepreneurship, inclusivity and education. ABC is a place to build community and learn, and so we'll host an event each an every Thursday at our co-working space in Buckhead – Atlanta's first co-working DAO – featuring leading experts on various blockchain content themes.
Join us. It's time to build 🚀
This week's theme is:
Blockchain in Our World: Use Cases for Distributed Ledger
Blockchain solutions will transform more than just our financial systems. In fact, the technology has the potential to enhance everything from supply chains to our elections. What are the emerging use cases for distributed ledger technology?
This week's topic is:
Careers in Blockchain: Head of Talent at Binance.US
: Finding Your Own Path
Have you ever thought about a career in Web3 or blockchain technology? The emerging field of Web3 includes technology such as blockchain, fungible tokens, non-fungible tokens; but did you know it also includes accounting, marketing, human resources, graphic design, social media management, and customer service? That's right, Web3 and blockchain, while new, include every area of business.
If you take a quick look at job posting websites, Linkedin, or company websites then you will see that traditional consumer giants and start-ups alike are seeking candidates in a wide variety of positions that involve blockchain technology. Join us this Thursday for a discussion on the emerging fields in blockchain, but also how your existing skill set could make the jump into this exciting world.
About our Speakers:
Kimberly Marsh, Head of Talent at Binance.us, qualifies top talent for positions at Binance.us, a leading cryptocurrency exchange which is the largest exchange in the world in terms of daily trading volume of cryptocurrencies, founded in 2017. Marsh has been working in the recruiting world since 2010.
Zach French, Web3 Consultant and Host of the Web3 With Me Podcast, Building and rebuilding the best version of myself; Obsession over development and execution of good ideas; Implementation of agile methodology in every facet of life; Process-driven to the extent my impulsive nature allows; Aligning incentives as solutions to make businesses and the world a better place.
Sponsored by Starter Labs
–
Stream the Event via Youtube
Food and beverage will be provided. Venue capacity is limited.
Parking Guide – Join Discord for Assistance
• Front of the Building ( facing Old Ivy Rd )
• Side of the Building ( facing NFT Mural )
• DO NOT Park at the bottom of the lot ( facing House of Fitness )