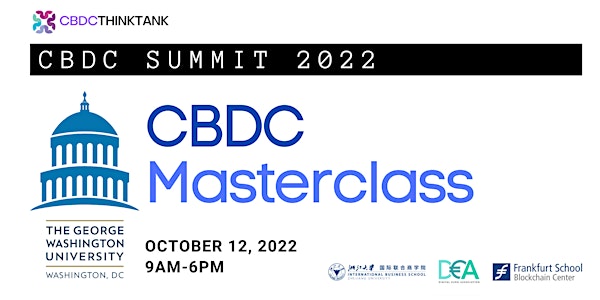 Course DescriptionThe CBDC Masterclass, held on Day 1 of the CBDC Summit, is a full-day intensive taught by a group of CBDC experts and is held by the CBDC Think Tank in partnership with the IMF and George Washington University. All attendees also have complimentary and confirmed access to Day 2's Digital Lecture Series held at Georgetown University (see details here) and in partnership with DC FinTech Week. Each of the eight sessions provides deep education and intimate access to experts. The sessions are designed as instructional deep dives with full presentations and Q&A components.
All attendees will receive a printed and bound 300+ pages study guide that supports the learning in the course.
Lectures and Deep Dives (additional instructors being added) How can central banks communicate with the public on CBDC?, Louise Johnston [Bank of England]
CBDC Aspects & Considerations, Thomas Moser [Swiss National Bank]*
Understanding the eCNY, Professor David Wen [Zhejiang University]
Who's Doing What and Why?, John Kiff [IMF / CBDC TT]
The CBDC Decision Making Process, Ashley Lannquist and Herve Tourpe [IMF]
DeFi + CBDCs: Understanding DeFi, AMMs & Stablecoin Swaps, Binur Zhalenov [National Bank of Kazakhstan], Prof. Jamiel Sheikh [CBDC TT]
Macro and Financial Stability Risks Marcello Miccoli [IMF]
CBDC Legal Considerations, Prof. Dr. Jiaying Jiang [UF Law]
CBDC Cybersecurity Readiness, Arvinder Bharath, [IMF]
Instructor BiosAshley Lannquist is a Digital Finance Expert in the IMF's Digital Advisory Unit. Prior to that, she was the Project Lead for Blockchain and Digital Currency at the World Economic Forum. She led the Forum's work on CBDC, as well as blockchain for financial inclusion and anti-corruption. Ashley is the lead author of the World Economic Forum's 2020 "CBDC Policy-Maker Toolkit." She previously worked in fixed income investment management at BNY Mellon. Ashley has an MBA from UC Berkeley's Haas School of Business, where she started and led the FinTech Club, and a Bachelor of Arts with honors in Economics and European Studies from Barnard College of Columbia University. She is also a Chartered Alternative Investment Analyst (CAIA).
Francisco Rivadeneyra is the Director for CBDC and FinTech Policy and Research at the Bank of Canada. In this role he leads a team developing policy advice in areas of central bank digital currency, electronic money and payments, and the implications for central banks of broader financial innovations. He also is an active researcher working in the intersection of technology, payments infrastructures and finance. His current research studies the security and convenience trade-off of digital currencies and the use of artificial intelligence in the liquidity management problem of commercial banks. His previous work has been on the management of domestic debt and foreign reserves for the Government of Canada. Francisco holds a PhD in Economics from the University of Chicago.
Marcello Miccoli is a Senior Financial Sector Expert in the IMF's Monetary and Capital Markets Department, where he analyses the impact of Fintech on the economy, in particular that of digital currencies on monetary policy and on the financial system. He also contributes to the IMF's participation in international working groups on the impact of digital currencies and on the improvement of cross-border payment systems. Before joining the Fund, Marcello was at Banca d'Italia, in the Monetary policy and Economic outlook Directorate, where, in addition to Fintech analysis, he contributed to the determination and assessment of the Eurosystem's monetary policy stance and strategy. His research has focussed on unconventional monetary policy, inflation expectations, learning and public information and, more recently, on central bank digital currencies and machine learning techniques to use social media data for economic policy. Marcello holds a PhD in Economics from Stanford University.
Louise Johnston is a Senior Economist and Policy Manager in the CBDC Unit at the Bank of England. She joined the CBDC unit in 2020 and has worked on most aspects of CBDC, but specialises in economics and strategy. That includes the potential public policy case for and economic design of CBDC, as well as interactions with potential users. She is currently managing the upcoming BoE consultation on CBDC due for publication this year. Prior working on CBDC she has been in a variety of macroeconomic and analytical roles in the Bank of England, including as an Author of the Bank's Monetary Policy Report
Professor David Wen is a professor at the International Business School of Zhejiang University and the executive director at the International Research Center for FinTech Security. His current work is to build future digital financial infrastructure using "Digital Value", a term he coined to represent all types of digital assets in the digital economy. After obtaining his Ph.D from Oxford University, he has worked at NTT Communication Science Laboratory in Japan, before appointed the youngest Associate Professor in Tokyo Science University. While visiting Stanford University as a visiting professor, he worked on Department of Defense's Common Access Card (CAC) program and later joined HID as chief security architect oversaw the entire Federal Identity Management products and deployment. He later took up position of Chief Scientist at Dell and SAIC, both Fortune 500 companies, managing the deployment of US Federal Government's Personal Identification and Verification (PIV) program at NASA, DHS, and FDA etc. In September 2011, he co-founded eCurrency Mint Ltd, the first silicon valley company to provide Central Bank Digital Currency solution globally. He helped coin the term Digital Fiat Currency working as the US expert to ISO Technical Committee 68 (SC 2) for digital currency security, and was elected chairman of the International Telecommunication Union's Focus Group on Digital Fiat Currency, working with central banks and telecom regulators from People's Bank of China as well as over 40 Central Banks around the world. He co-authored the first "Digital Legal Currency" book published by People's Finance Publisher and is used as textbook for graduate studies. He is currently working with a few Central Banks in developing countries using "World Change" as the new digital financial infrastructure in practice.
Herve Tourpe is Chief Digital Advisor at the IMF. He leads a team of digital experts in transformative technologies relevant to IMF's Member Countries, such as Fintech, AI, Blockchain, Big Data, cloud and the related cyber risks. A passionate "techno-realist", he strives to provide unbiased and cross-country expertise on technology trends, opportunities and risks, especially for emerging and low-income countries. Mr. Tourpe is an expert in national digital strategies, with a particular focus on financial inclusion, sustainable development, digital payment and Central Bank Digital Currencies (CBDC).  Formerly Chief Enterprise Architect, Mr. Tourpe has astrong background in IT strategy, technology innovation and User Experience (UX).
John Kiff is a Managing Director at the CBDC Think Tank. Prior to that, from 2005 to 2021, he was a Senior Financial Sector Expert at the International Monetary Fund (IMF). Before that he was at the Bank of Canada for 25 years, where he spent most of his time managing the funding and investment of the government's foreign exchange reserves, including running its interest rate and currency swap book. At the IMF he was part of the team that produces the semi-annual Global Financial Stability Report. More recently he has been focusing on fintech issues, OTC derivative market infrastructure, and longevity risk transfer markets. He is active on Twitter (@Kiffmeister) and blogs at the Kiffmeister Chronicles.
Professor Dr. Jiaying Jiang is assistant professor of law at the University of Florida Levin College of Law, a co-leader of the Central Bank Digital Currency Project cooperating with the China Center at Yale Law School, and a contributor of the RegTrax Initiative at Stanford Law School. She is also an attorney and counselor at law in the State of New York and China.
Her research focuses on the interaction between law and technology, particularly in the areas of policies and regulations on emerging technologies, such as artificial intelligence, fintech, blockchain, cryptocurrencies, and CBDCs. Her scholarship has appeared in Pittsburg Law Review, Tsinghua China Law Review, Cambridge University Press, and other journals in the United States, China, and Europe. Her CBDC-related scholarship has been widely cited by the Federal Reserve of Boston, MIT, Stanford, Hoover Institute, and many more academic journals and news outlets.
Professor Jamiel Sheikh is founder of the CBDC Think Tank and adjunct professor at Columbia Business School and CUNY and Professor of Practice at Zhejiang International Business School, where he teaches blockchain and digital currency topics and is Innovation Fellow at Columbia Business School's Lang Center for Entrepreneurship.
In addition, Jamiel is founder and CEO of Instamint, the popular learning sites Blockchain101.com and CBDCInsider.com. He is currently authoring a book on decentralized finance for Columbia University Press and NFTs for Cambridge Press.
Jamiel has over 25 years of experience in banking and capital marketing, having worked for organizations like Lehman Brothers, JPMorgan, Bank of America, Sun Microsystems, SONY and Citigroup. He runs Blockchain NYC, New York City's largest blockchain and digital assets Meetup group in NYC consisting of over 35,000+ local members and holds marquee conferences like DEFICON and CBDC Summit.
Jamiel is board member of the Society of Women Coders, a group that seeks to help young females in underprivileged societies better engage in technology and sits on board of advisors of several startups while and expert member of the United Nations Digital Currency Global Initiative and expert at the Digital Euro Association.
Jamiel holds an MBA from Columbia University's Business School and BBA from Baruch College and is completing his second Masters in Distributed Computing from Georgia Institute of Technology.
Remaining Bios Forthcoming
About the CBDC Think TankThe CBDC Think Tank is a group of bankers, researchers, academics, members of international financial institutions (IFIs) and non-government organizations (NGOs) interested in (and, dare we say, passionate about) the future of digital currencies and payments.
*tentative speakers