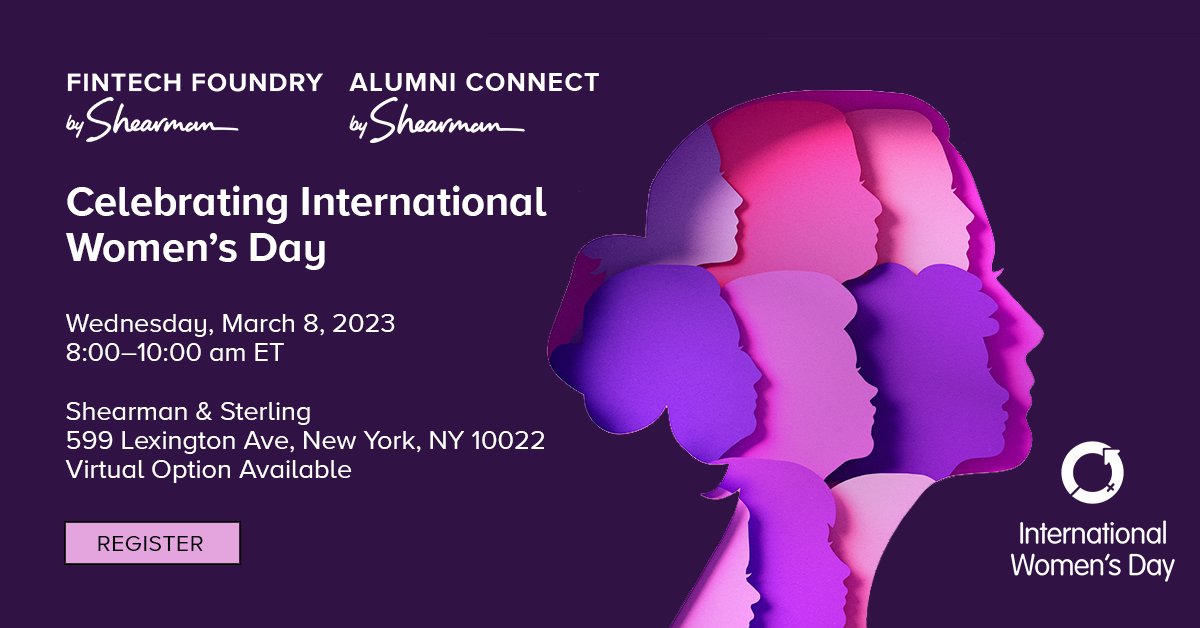 We invite you to join us to celebrate International Women's Day under the UN's theme of "DigitALL: Innovation and technology for gender equality," which spotlights how the digital divide creates challenges for women, the global economy and overall productivity.
The program will include engaging panel discussions with Shearman & Sterling partners and guest speakers, breakfast and opportunities to network with leaders across industries.
All are welcome. Space is limited, so please register early.
Program
Session 1: A Breakfast Discussion on Closing the DigitALL Divide
Technology continues to rapidly advance and change the way we work, yet women and girls are underrepresented in industries, academia and the broader technology sector. In this interactive panel, thought leaders from the legal, corporate and nonprofit sectors discuss digital trends, the gaps and advantages they see for women and share actionable tips for skilling up.
Shearman & Sterling:
Gillian Emmett Moldowan, Partner, Compensation, Governance & ERISA; Member, Women's Initiative for Success, Excellence and Retention (WISER)
Geline Midouin, Co-Executive Director & Chief Operations Officer
Meredith Williams-Range, Chief Knowledge & Client Value Officer
Guest Speakers:
Joy Heath Rush, Chief Executive Officer, International Legal Technology Association
Tieisha Smith, Head of Tech Partnerships, Acceleration & Culture Transformation, TIAA
Session 2: DigitALL within the FinTech, Blockchain and Crypto Industries
While the share of women leaders in the FinTech industry has been steadily improving over time, large gender gaps continue to persist. Join this panel of corporate and legal experts to discuss the contributions women have made in the FinTech, blockchain and crypto industries and the path forward.
Shearman & Sterling:
Jennifer D. Morton, Partner, Financial Institutions Advisory & Financial Regulatory; Co-Head, FinTech Foundry
Cassandra Cuellar, Partner, Emerging Markets; Member, FinTech Foundry
Guest Speakers:
Sarah Biller, Co-Founder, Fintech Sandbox
Shelley Eleby, Head of Marketing, Electronic Trading, Bank of Montreal