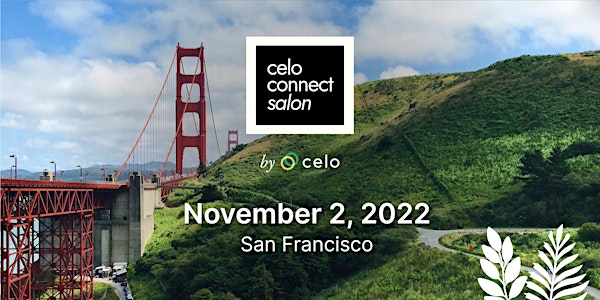 Celo Connect Salon comes to San Francisco during SF Blockchain Week and EthSF!
10:00am: Doors, light breakfast, wellness
10:30am – 10:50am: Morning Wellness with Adriana Cerundolo and Bloomtree Wellness
11:00am – 11:30am: Why Celo Matters with Avichal Garg (Managing Partner at Electric Capital) and Marek Olszewski (CEO of Valora)
11:30am – 12:00pm: What is ReFi and where is it going with Helena Merk (Co-Founder and CEO of Spirals) and Nikhil Raghuveera (Head of Strategy & Innovation at the Celo Foundation)
12:10pm – 1:00pm: Lunch & Learn Sessions
• The Role of Wallets in ReFi: A Conversation: Two main retail use cases arise in ReFi, Climate funding and UBI) with very different target user profiles. How do wallets build for multiple ReFi user types? What role does education play in driving ReFi adoption? Join the Valora team for a lunchtime conversation with Cryptohunt. (Denisse Halm of Valora and and Ellen O'Connor of Cryptohunt)
• Getting started with Celo Composer: Celo Composer allows you to quickly build, deploy, and iterate on decentralized applications using Celo. Learn how to get started in this workshop. (Nestor Bonilla of the Celo Foundation)
• Green Liquid Staking: Learn about the relationship between blockchain and climate, the history of liquid staking and how it achieves higher capital efficiency in crypto, and how green liquid staking can help the planet. (Doug Qian of Spirals)
1:00pm – 1:15pm: Midday Wellness with Julian Sproul and Bloomtree Wellness
1:00pm – 4:00pm: Developer Office Hours
1:15pm – 1:45pm: Where's web3 going? An investor's perspective with Vanessa Grellet (Managing Partner at Aglaé Ventures) and Haseeb Qureshi (Managing Partner at Dragonfly Capital)
2:00pm – 2:30pm: Celo 2.0 with Tim Moreton (CEO of cLabs)
2:30pm – 3:00pm: Connect the World with Fiat Connect with Charlie Andrews (Engineering at Valora)
3:00pm – 3:30pm: Bridging Towards a Multichain Future with Nam Chu Hoai (Co-Founder of Hyperlane) and Jeff Kuan (Business Development at Axelar). Moderated by Tim Moreton (CEO of cLabs)
3:30 – 4:00pm: How to Build for 6B Smartphone Users: Unlocking Web3 Adoption with Tricia Wang (Co-Founder of Crypto Research and Design Lab) and Eric Cuellar (Co-Founder of Node Finance). Moderated by Katherine Paseman (Researcher and Project Lead at CRADL)
4:00pm – 4:30pm: The Future of Currency with Sean Leow (CEO of Kickstarter), David Casey (Co-Founder of ReSource) and Brynly Llyr (Head of Blockchain and Digital Assets at WEF). Moderated by Nikhil Raghuveera (Head of Strategy & Innovation at the Celo Foundation)
5:00pm – 7:00pm: Happy Hour
Make sure to check the Celo Connect website for more info on programming and activities.
We look forward to connecting irl at the Celo Community Hub!