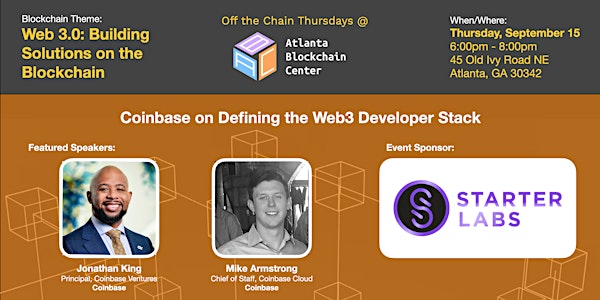 Our mission at Atlanta Blockchain Center is to be the catalyst for Atlanta's emergence 
as the premier blockchain innovation hub globally through cultivating entrepreneurship, inclusivity and education. ABC is a place to build community and learn, and so we'll host an event each an every Thursday at our co-working space in Buckhead – Atlanta's first co-working DAO – featuring leading experts on various blockchain content themes.
Join us. It's time to build 🚀
This week's theme is:
Web 3.0: Building Solutions on the Blockchain
How can you unlock the promise of Web 3.0? We'll roll up our sleeves to help you build solutions for a new decentralized internet that is powered by blockchains and tokens, forces interoperability and gives builders and users property rights.
This week's topic is:
Coinbase on Defining the Web3 Developer Stack
Today, millions of software applications have been created by a thriving, global ecosystem of more than ~31.1M software developers. However, despite the steady uptrend in software development activity, Web3 developers represent less than 1% of the global software developer community. There are at least 18,000 monthly active developers in the Web3 ecosystem, according to a report from crypto VC firm Electric Capital. This is the number of developers who commit code into open source crypto and Web3 projects at least once a month (note that this does not include data from proprietary projects).
Coinbase believes that as Web3 continues to gain momentum, there's an opportunity to invest in new developer tools and infrastructure to simplify the Web3 developer journey and unlock the next stage of Web3 innovation and growth. As more robust developer tools and infrastructure platforms emerge, Web3 developer activity will rapidly grow resulting in increased distribution and adoption of blockchain applications overall.
With that framing in mind, come learn more about how Coinbase Ventures defines the Web3 developer stack and the tooling that you can use to build solutions for the new decentralized internet. Additionally, Coinbase Cloud will share insights on how they are supporting the future of Web3 development.
You don't want to miss this!
Featured speakers:
Jonathan King (JK) – Principal, Coinbase Ventures
JK is a Principal at Coinbase Ventures responsible for investing in early-stage crypto and Web3 startups, with a primary focus on companies building new Web3 developer platforms and tools. JK has been investing into crypto since 2016, and has 11+ years of functional experience that spans product, engineering, and corporate strategy in a wide range of enterprise markets, including B2B SaaS, Web2 developer tools, IoT, and Future of Work. In addition to being one of ABC's Immutable Program Mentors, JK is an angel investor with the Atlanta Technology Angels, a graduate from Georgia State University, and a recent MBA graduate from the Georgia Tech Scheller College of Business.
Mike Armstrong – Chief of Staff, Coinbase Cloud
Mike Armstrong is Chief of Staff at Coinbase Cloud and serves as the primary 'problem solver' of the team. He joined Coinbase through the acquisition of Bison Trails in 2021 where he spent time in various roles including Business Development Manager and Chief of Staff. Mike's career in Web3 started in 2017, where he was instrumental in the development of Cambridge Associates' Crypto Research team as a Senior Investment Associate and performed extensive diligence on the space culminating in the development of a firm-wide thesis titled, "Cryptoassets Venture into the Unknown". Since then, he's been an active angel investor, fund and startup advisor, and has contributed to several DAOs (including Seed Club). He's a graduate of Vanderbilt University and spends his time between ATL and NYC.
–
Stream the Event via Youtube
Food and beverage will be provided. Venue capacity is limited.
Parking Guide – Join Discord for Assistance
• Front of the Building ( facing Old Ivy Rd )
• Side of the Building ( facing NFT Mural )
• DO NOT Park at the bottom of the lot ( facing House of Fitness )