Join female product leaders in our first-ever event for Advancing Women in Product NYC!
We welcome industry leaders Veronica Pinchin (Director of Product, Google's Sidewalk Labs), Erica Windisch (CTO & Founder, IOpipe), Charlie Javice (Founder, Frank; Forbes 30 Under 30), and as our moderator, Crystal Huang (Principal, New Enterprise Associates (NEA)) to share their experiences with Contrasting PM Disciplines Between Coasts.
Doors open at 6:30 pm, followed by our event and questions, and finally networking with our fabulous group of Product leaders and innovators in NYC. Please join us for this inaugural AWIP NYC event. Food and beverages provided.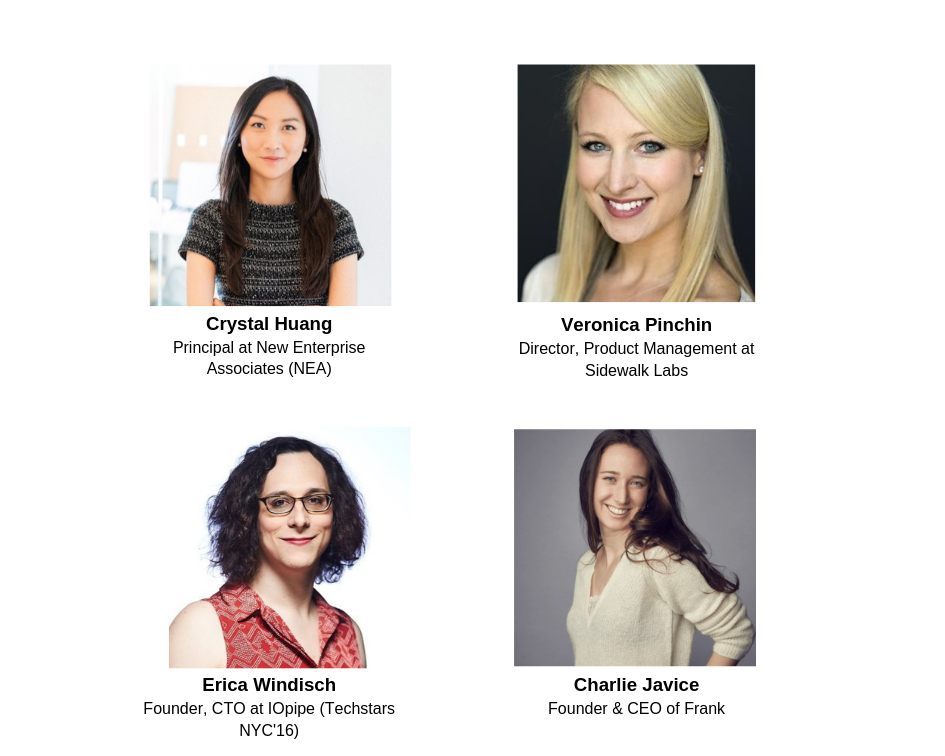 SPEAKERS:
Not many company founders can credibly toss around the phrase "seven billion dollars." But Charlie Javice, the 26-year-old founder of Frank, a New York fintech start-up that completely overhauls the experience of applying for financial aid can. And she did. And she probably will again. That's how much financial aid Javice estimates her company has found for the students who use Frank. In less than two years, the company helped about 300,000 students find between $25,000 and $30,000 in aid per person – equating to $7 billion over four years of college. In 2017, Charlie raised a total of $15.7M, the largest venture round for a female founder that year. Her investors included U.S.-Israeli investment fund Aleph Venture Capital (which previously invested in WeWork and insurance startup Lemonade), Reach Capital, former Uber advocate Bradley Tusk's Tusk Ventures, and Slow Ventures. Marc Rowan, the co-founder of Apollo Global Management, one of the largest private equity firms in the world, led the most recent investment. At 19, Charlie was the youngest person to be named one of Fast Company's "Most Creative People." This year, she topped the Forbes 30 under 30 list in the Big Money and Finance category. She's a thought leader in fintech and education authoring op-eds for the NY Times and Wall Street Journal. She's currently working on a bill to advocate for a change in student loan disbursement that would save students billions of dollars in interest fees. She enjoys tutoring math and physics in the South Bronx, mentoring social impact entrepreneurs, and serves on Penn Hillel's Executive Board. She graduated from The Wharton School at the University of Pennsylvania in 3 years with a concentration in Finance, Operations Information Management, and Law.
Erica Windisch, Founder, CTO at IOpipe (Techstars NYC'16)
Innovating cloud computing technologies since 2002. By leveraging the early-career experience of supporting web hosting environments, Erica sought to disrupt the web hosting industry.
* Founder of IOpipe, providing event-based analytics and distributed tracing for AWS Lambda and "serverless" applications.
* Founder of the Magnum Container Service, an OpenStack project.
* Early contributor to OpenStack (February 2011).
* Released one of the first open-source cloud management systems — in 2010.
* Founded a cloud hosting product designed for developers in 2006.
* Built one of the first "Platform as a Service" (PaaS) solutions as early as 2003.
Veronica Pinchin, Director, Product Management at Sidewalk Labs
Director of Product Management at Sidewalk Labs, where we're building smarter, healthier, and happier cities. Formerly of Mixpanel (Machine Learning, Pricing, and Customer Retention), Google (Health Search), and McKinsey (Business Technology Office).
Moderator:
Crystal Huang, Principal at New Enterprise Associates (NEA)
Crystal is a Principal at NEA, focused on enterprise software, infrastructure, and consumer internet. She sits on the board of Attest, an online consumer research/insights SaaS company. Prior to joining NEA, Crystal started her venture capital career at GGV Capital, where she focused on US and China-based investments in enterprise software and consumer internet, and was closely involved with the firm's investments in Aptible, BigCommerce, Bitsight, BrightWheel, HashiCorp, Headspin, NS1, OpenDoor, Slack, Tile, Unravel Data, and Wish among others. Previously, Crystal was a member of the technology M&A team at Blackstone in Silicon Valley as well as a sales & trading intern at Goldman Sachs. She studied at Harvard College and grew up in Vancouver, Canada.
AGENDA
6:30 pm: Registration + AWIP Welcome, Light Snacks + Drinks
7:00 – 8:00 pm: Panel Discussion followed by Q&A
8:00 – 9:00 pm: Networking