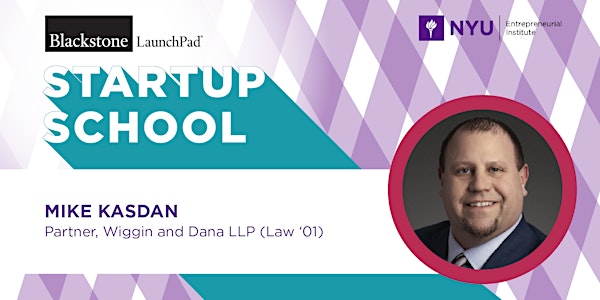 Crypto, NFTs, Blockchain & the Metaverse?
Come join us for a Primer and discussion of Legal and Regulatory Challenges for Digital Assets. 🧐📈😵‍💫📉🚀
NFTs, the Metaverse, and Blockchain-enabled Technologies: The Next Big Thing or The Next Big Overblown Risk?
• So….. What The Hell's an NFT?
• Blockchain-Enabled Technologies: Applications
• Benefits Why They're Exploding
• Criticisms Why To Temper Expectations
• Legal and Regulatory Challenges
• IP, Securities issues, Market manipulation, Money laundering, Fraud/theft
Speaker: Michael Kasdan, IP Partner @ Wiggin and Dana LLP (NYU Law '01)
Michael Kasdan
Michael is a Partner at Wiggin and Dana LLP's Intellectual Property Practice Group, Michael develops effective offensive and defensive patent strategies for organizations of all sizes. He has asserted and defended IP rights in federal courts, the U.S. Patent and Trademark Office, the International Trade Commission, and private arbitrations and mediations. As an advisor, he has worked with both established companies and startups to obtain, value, license, and develop patent, trademark, and trade secret portfolios.
Trained in electrical engineering and bringing a business background as a technology consultant, Michael is known for his ability to quickly learn new technologies and distill complicated topics. He works with a broad range of technologies, including consumer electronics, wireless and mobile devices, batteries, mechanical devices, healthcare and medical devices, computer architecture, software, and networks, including open-source software, semiconductor chips, internet, and e-commerce platforms, software apps, and blockchain, NFT and decentralized finance-related technologies.
Adjunct Professor at NYU School of Law, serve as Director of Special Projects and Sr Sports Editor for The Good Men Project, and serves on the Board of MyChildsCancer and the Communications Committee of the Institute for Well-Being In Law.
IAM Strategy300 and Super Lawyer. Co-Chair of NY LES, Head of NY Chapter of IIPCC. Founder and past Head of NY IP Alliance.