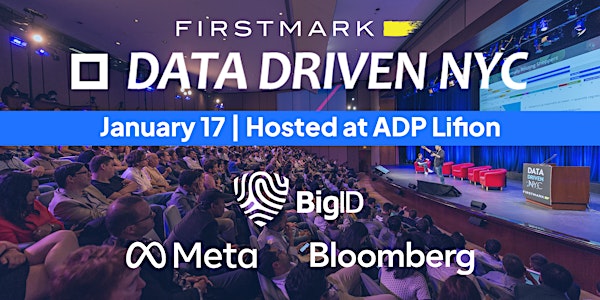 Data Driven NYC is back for 2023!
Join us at ADP Lifion Tuesday, January 17th at 5:45pm for another stellar installment featuring:
Dimitri Sirota, Co-Founder & CEO of BigID, a data intelligence platform that enables organizations to know their enterprise data and take action for privacy, protection, and perspective. BigID has raised over $280 million in funding to date.
Melanie Kambadur (Research Manager, Meta) & Gideon Mann (Head of ML, Bloomberg) for a conversation about Large Language Models: Melanie is Research Engineering Manager at FAIR Labs, Meta's AI research organization where she has worked on projects like BlenderBot, a 175B parameter chatbot. Gideon is Head of Machine Learning Product and Research at Bloomberg, LP, where his mandate includes building AI infrastructure (from GPUs to NLP libraries) and incubating new technology (e.g. large language models / GPT-3).
RSVP now to save your spot!
NOTE: Please try to arrive as close to 5:45pm as possible as the venue will not permit more guests once we reach capacity (100 people).