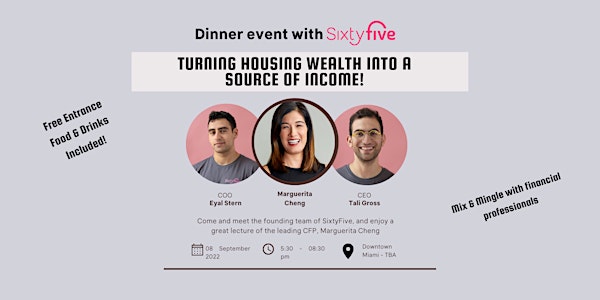 Meet SixtyFive's founding team and learn more about our new retirement income solution!Come and join other financial professionals in this great event – Free food & drinks, a fascinating lecture by leading CFP Marguerita Cheng about the hidden opportunity in housing wealth and how it possibly can widen your product offering!
Mix and mingle with other financial practitioners, including CFPs, financial advisors, retirement income professionals, mortgage specialists and more.
Backed by top fintech and agetech investors, SixtyFive is on a mission to help American seniors retire with less financial stress and more day-to-day flexibility. This, by providing them with a reliable source of income on-demand based on their largest asset – their own home.
The SixtyFive asset-backed card will be available in Florida starting from September, and this is your opportunity to learn more and be the first to offer it to your clients.
Food and drinks – on us!Marguerita Cheng is a spokesperson for the AARP, CFP Board Ambassador and this is the fourth year she has been recognized as a top 10 advisor in the States by Investopedia.
________________________________________________
Sponsored by SixtyFive.com