Disruptive Startup Award (FinTech – Growth Stage): is an exclusive event enabling Startups with disruptive innovation to pitch and share their innovation with VC Investors, Corporate Clients, Strategic Partners and M&A Investment Bankers.
You will meet and gather insights from serial entrepreneurs, thought leaders, Investors and Fortune 500 Executives, along meeting potential partners. This Event is open to Top VC's, HNWI, FO and Global Fortune 500.
Pitch: Priority is given to Startup Founders from Columbia and NYU. Pitching is free for 3mn verbal and you must register your pass with your school email (to gain priority) or your startup business email (if you are not an affiliate of Columbia or NYU).
Award Prizes: Top 3 best pitch will win three day pass for our Global Corporate Innovation Conference 2019 ($10k + Value) plus Investments offer.

Check our recent Event at Stanford here or watch video (click here)
Focus: FinTech (Banking, Capital Market, Insurance, Payment, Crypto, etc..).
Emerging Technology: Blockchain, AI, Quantum Computing, Cybersecurity and any ET applicable to FinTech
Stage: Growth
Audience: We expect top investors, Startup and Corporate leaders along Influencers. Must be 21 or older to attend. Accredited Investors (register here after your ticket purchase) or all other Join our Members here (to interact with our 100k+ Ecosystem and Portfolio).
============================
Agenda:
6:30pm: Reception (Open bar with Food and Desserts).
7:00pm: Fireside Chat with FinTech Influencer (will add by next week)
7:30pm: Startup Pitch
==Featured Panelists, Judges and Invited Speakers==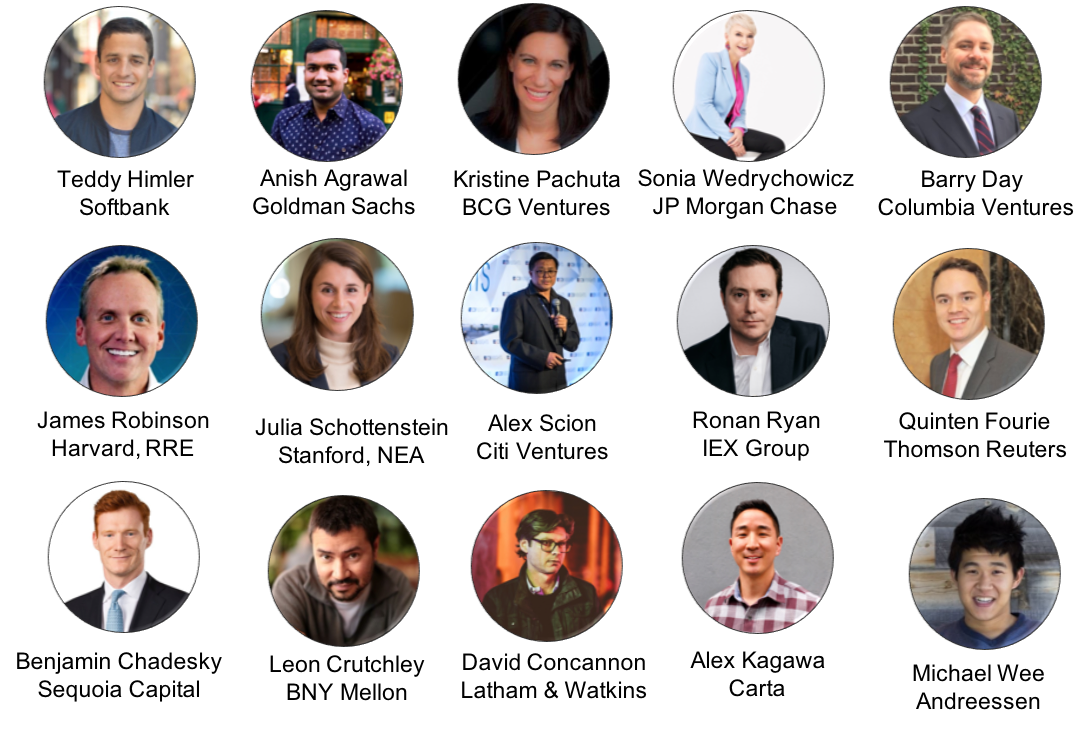 This event is a must-attend for disruptive startups and accredited investors to obtain unparalleled exposure across the innovation ecosystem. Read more here about our last Growth Stage Startup Event at Stanford.
========================================
Event Terms: All ticket sales are final with no exchange. In case of last-minute change or cancellations of the venue by the host, we will reschedule for a future date and issue replacement ticket for the new venue at no additional cost. Given Panel speakers busy schedule, last minute changes happen, and will do our best to find replacement without any guarantee that any or all panelists listed above will attend. Discounted and promo tickets cannot be transferred or exchanged. All obtained tickets that does not meet the discount or promo criteria would be considered void and non-valid. By joining this event you agree on all terms as listed by respective sponsors, organizers and venues host under their respective terms of services web pages.
Organizer and Sponsor:
ONETRACTION IS THE FIRST ON-DEMAND VENTURE CAPITAL, THAT DISRUPTS HOW CORPORATIONS, STARTUPS, AND INVESTORS IMPLEMENT INNOVATION!
Our founders are serial entrepreneurs, Stanford, Harvard, MIT, Columbia, NYU, McKinsey, Accenture, KPMG, Google, Morgan Stanley, CitiGroup and Apple alums!
Based in Silicon Valley, we help global founders build innovative products for the right market, backed by top corporate clients and investors, see past events, featured startups portfolio or join our program here
Sponsors: Sponsors package are available on first come basis. Please contact us using your corporate email and include your specific needs.
Contact us: Please read the entire event page first, along each ticket description "show info". If you still need help, please contact us using the link at the end of this page "above the map": CONTACT