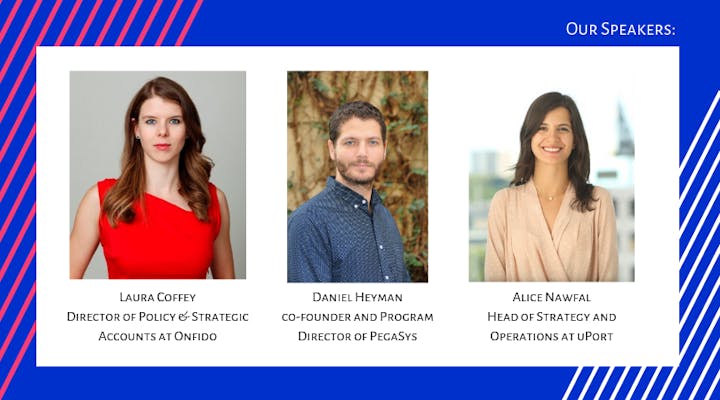 Enterprise Ethereum
Ethereum is the world's first fully-programmable blockchain and now, private, permissioned Ethereum blockchain networks are being implemented globally by enterprises in industries ranging from banking to real estate, government, supply chain and more. These private instances are separate from the public chain, built to address the specific needs of enterprise such as privacy, performance, scalability and governance. Ethereum presents the next generation of high-trust, low-cost services and transacting – available right now.
Join us to hear from Daniel Heyman of Pegasys, the Protocol Engineering group at ConsenSys, how you can future proof your business with enterprise Ethereum.
Trusted data & identity
Amidst rising privacy concerns and data breaches, new models for issuing, managing and storing personal data are emerging. These models rely on decentralized identity systems, allowing users to have a portable, reusable identity, with associated attributes that they can rely on to authenticate themselves more seamlessly and access services. Importantly, this holds the promise of convenience for customers while making identity-related transactions private and secure.
By relying on decentralized identity solutions, fintechs can vastly decrease customer on-boarding frictions related to KYC, thereby reducing the associated costs, efforts and risks involved, while also being privacy-preserving in a GDPR world. Ultimately, portable identity is a key enabler of thriving financial services ecosystems, allowing fintechs to onboard users at scale, supporting faster growth and in turn, flows of capital, jobs and tax receipts.
Join us to learn how ConsenSys' uPort, a decentralized identity platform, and Onfido, an identity verification service, are working together to test portable identity for fintechs and financial institutions in the UK. Laura Coffey and Alice Nawfal from Onfido and uPort respectively will be discussing their participation in the UK regulatory sandbox, and how they envision their work together and other projects will help enable that new wave.
About uPort:
uPort is a user-centric data platform anchored on the Ethereum blockchain. It delivers scalable decentralized solutions for digital identity, reputation, and multiparty trust. Built on interoperable standards, it offers a collection of tools and protocols allowing users to establish identities, send and request credentials, sign transactions, and securely manage keys & data. uPort is backed by ConsenSys, a global incubator of blockchain applications. For more information: www.uport.me
About Onfido:
Onfido uses AI to verify any government ID and then compares it with the person's facial biometrics. As an identity verifier, the Onfido credentialing service helps any individual show that they have been verified.Onfido is backed by Salesforce Ventures, SBI Investment, M12 (Microsoft) Ventures, and others, and has more than 250 technologists spread across 6 countries. For more information: https://onfido.com/
About PegaSys:
PegaSys is the Protocol Engineering group at ConsenSys, and is a 60+ person team dedicated to enterprise-grade blockchain and cutting edge R&D. We have open-sourced Pantheon, a Java-based Ethereum mainnet client with additional features designed for enterprise deployments. Our R&D teams are working on Ethereum 2.0, sidechains and more. We partner with enterprises, strategic implementers, and node operators to make Ethereum easy, secure and scalable to solve real-world business needs, and have recently partnered with LiquidShare to build a blockchain for the financial industry.
About our Speakers:
Daniel Heyman:
Daniel Heyman is co-founder and Program Director of PegaSys, focusing on the strategy and operations of the team. Prior to joining PegaSys and ConsenSys, he was co-founder and CEO of Stack AI, COO of the Demeter Entrepreneur Support Network and Project Manager at MIT's Poverty Action Lab. He has an M.B.A. from MIT Sloan and a B.A. in Mathematics and Economics from Columbia University.
Alice Nawfal:
Alice Nawfal is Head of Strategy and Operations at uPort, ConsenSys' decentralized identity solution. Previously, she worked as a consultant at Bain & Company and research consultant focused on public policy at the Economist Group. With a particular interest in how tech can enable financial services, she has worked in business development and strategy at two fintech startups, Prodigy Finance and norbloc, as well as in fintech investing with the Wharton Impact Investing Partners. Alice has an M.B.A from Wharton, M.P.A. from the Harvard Kennedy School and B.S. in Mathematics / Economics from MIT.
Laura Coffey:
Laura Coffey is the Director of Policy & Strategic Accounts at Onfido. She worked at the Prime Minister's Delivery Unit and Prime Minister's Strategy Unit under the Blair and Brown administrations respectively, served as Deputy Director of Digital for the Cabinet Office under the Coalition administration. Laura has helped to launch a new bank on the UK high street, founded a social-impact EdTech startup, and built out a new FinTech practice for Tech Nation. With a particular interest at the nexus of technology, startups and government, she joined Onfido in 2018 to lead work on portable identity.