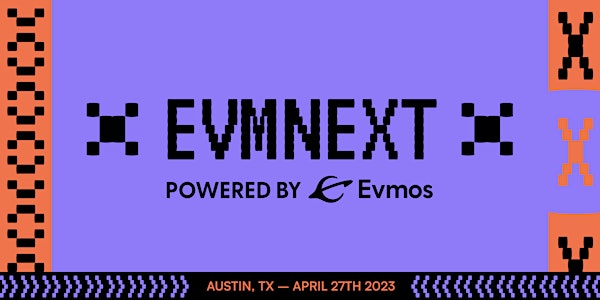 Are you ready to delve into the cutting-edge world of Web3?
🗓Date: Thursday, April 27th
⏰Time: 9 am – 4 pm
📍Location: Fairmarket, 1100 E 5th St., Austin, TX 78702
EVMNext is bringing together top experts for interactive panels, thought-provoking discussions, and hands-on workshops. You can expect tracks on Bridging & Rollups, Security & Privacy, Business Use Cases, and Active VC funding. Don't miss this opportunity to expand your knowledge and network with like-minded builders and disrupters in the Web3 space.
Register now for a day of cross-chain smart contract education and discussion on the next wave of EVM innovation!
🪐☄️🎟🇺🇸♲🫵🪐☄️🎟🇺🇸♲🫵🪐☄️🎟🇺🇸♲🫵🪐☄️🎟🇺🇸♲🫵🪐☄️🎟🇺🇸♲🫵🪐☄️🎟🇺🇸♲🫵🪐☄️🎟🇺🇸♲🫵
🤓Expert Panels:Gain insights from Web3 trailblazers laying the foundation for the future of EVM chains and cross-chain applications.
🔨Hands-On Workshops:Level up your skills with our team of elite developers offering highly targeted technical workshops designed to help you take your development to the next level.
♲Networking:Build valuable connections and exchange ideas with the top builders and disruptors in the Web3 space.
🔥Epic Fun:Savour the exquisite flavours of Austin's local food trucks before dancing the night away in an electric atmosphere with good vibes and non-stop excitement.🪩
🪐☄️🎟🇺🇸♲🫵🪐☄️🎟🇺🇸♲🫵🪐☄️🎟🇺🇸♲🫵🪐☄️🎟🇺🇸♲🫵🪐☄️🎟🇺🇸♲🫵🪐☄️🎟🇺🇸♲🫵🪐☄️🎟🇺🇸♲🫵
Rules of Engagement:
– This is a ticketed event: NO TICKET, NO ENTRY. QR Codes will only be scanned once. Do not share your codes.
Disclaimer: This event includes videography and photography. By attending this event, you agree to potentially have images recorded during this event. DIVINITY EVENTS reserves the right to use any photograph/video taken at this event. To ensure the privacy of individuals, images will not be identified using full names or personal identifying information without the approval of the photographed person.
By submitting a request for a ticket to DIVINITY EVENTS, you agree to the Release of Liability that will be sent with your confirmation email.