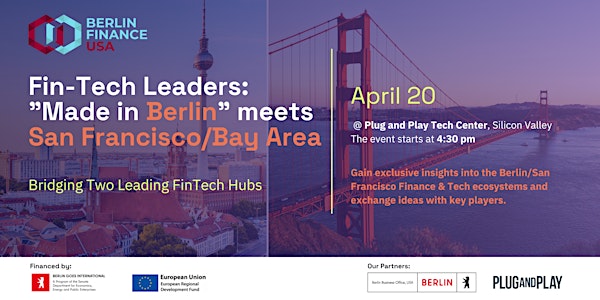 Join us for the exclusive event, Fin-Tech Leaders: "Made in Berlin" meets San Francisco/Bay Area, at the Plug and Play Tech Center in Silicon Valley. This engaging evening is designed to foster connections and collaboration between the Berlin and San Francisco/Bay Area financial & technology ecosystems.
Experience captivating presentations from leading Berlin-based FinTech startups, and dive into thought-provoking panel discussions exploring transatlantic expansion strategies and ESG practices. Network with fellow attendees, startups, and industry experts, and forge new connections and friendships.
While the agenda may be subject to change, one thing is certain – this event offers a unique opportunity to connect with top minds in the FinTech industry and build bridges between the San Francisco/Bay Area and Berlin. Don't miss out on this incredible opportunity to be part of the conversation shaping the future of FinTech!
Check out the agenda below!
Some impressions from our last event in Miami in December 2022: