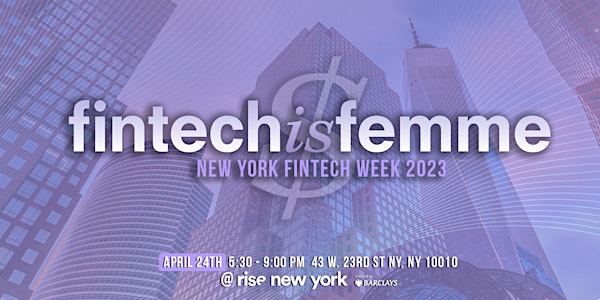 What is Fintech is Femme?Fintech's promise is to bring financial access to the masses yet in the industry itself— only 30% of fintech professionals are women.
Nicole Casperson, Founder of Fintech is Femme is on a mission to change that.
A part of New York Fintech Week, Fintech is Femme presents an evening of storytelling where female fintech executives share their trials and tribulations of being a leader in a heavily male-dominated community. Afterward, connect with peers and engage with content at a reception.
Past Speakers:
• Brandis DeSimone, Head of Data Sales, Nasdaq
• Lara Hodgson, Founder & CEO, Now
• Vrinda Gupta, Founder and CEO, Sequin
• Michelle Tran, VP of Enterprise Sales, Vestwell
• Clarissa Horowitz, Head of Marketing, Lithic
Kick off New York FinTech Week with the female fintech community at Rise by Barclays!
Event Details• Monday, April 24th
• Doors Open: 5:30pm
• Show Starts: 6:00pm
• Cocktail Hour: 7:30pm-9:00pm
Creating an equitable fintech space relies on total collaboration. Allies are welcome and encouraged to attend the event and can expect to leave with a deeper understanding of diverse female experiences in fintech.
Speakers