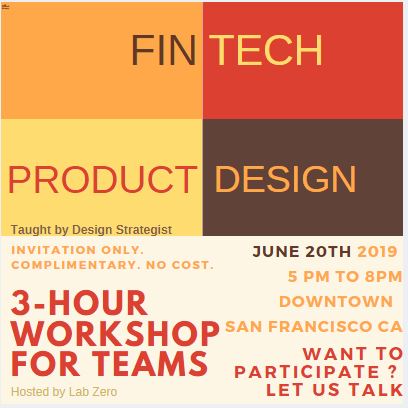 ---
---
Working on a Fintech Product ? Inviting you to a hands-on engaging workshop focused on human-centered practice of design thinking. We will take your product through stages of the design thinking methodology via practical exercises.
Agenda: June 20th. 5.00 pm to 8.0 pm. Over Drinks and Dinner.
5:00 Host Welcome, Logistics, Refreshments
5:30 Intro Design Thinking Workshop by Catherine Cooper EmpathyWise
5:30 Fast Paced Practice: Gain Empathy & Dig Deeper, Reflect
5:45 Capture Findings with Post-Its
5:55 Synthesize Insights & Needs
6:00 Define the Problem Statement
6:10 Sketch to Ideate
6:20 Share Solutions & Capture Feedback
6:30 Reflect & Generate a New Solution
6:35 Build Your Solution: Prototyping
6:50 Share Your Prototype: Get Feedback (+/-, ?'s, ideas)
7:00 Group gather & debrief. Over Delicious Dinner.
7:10 Word on Implementation
7:15 Design Thinking Applications: Design Firm & Financial Service
Lab Zero Shares Case Study on Mobile Payments.
7:35 Brainstorm Design Thinking Applications in Fintech
8.00 pm WrapUp
You and your team should attend to gain a true perspective of on how this mindset and methods for creativity can foster breakthrough innovation. Design thinking has gained significant momentum in the marketplace with industry leaders like Airbnb, Uber, SAP, IBM and GE making significant investments in the methodology.
This workshop will be taught by Design Strategist and Fintech Experts.
We wanted to bring this to you at no cost for a limited time. If you wish to participate please sign up early. We will get in touch with you to learn more about your product idea, team and reason for interest.
Workshop is complimentary, we have limited seats (25) so apply early to secure you spot.
Hosted and Sponsored by : Lab Zero
Speaker and Presenter Bios.
1. Catherine Cooper. Founder Emphathywise
Equal parts entrepreneur and research guru, Catherine is the driving force behind EmpathyWise. With over 25 years' experience in research design, fieldwork, consulting, and idea generation, she brings a perfect blend of fresh perspective and tried-and- true methodology to every engagement. The only thing Catherine loves more than delving into consumers' minds is guest speaking: she's sought out for business schools, corporate workshops, and conference engagements. She is a charter member of the Qualitative Research Consultants' Association (QRCA) and holds an MBA in Market Research from University of Wisconsin-Madison.
2. Sheela Ursal is the founder a Fintech and eCommerce advisory firm focused on product and strategy. For over two decades she has worked in digital technologies and launched products to global markets at Amazon, Western Union, Google (via Netopia acquisition) and Cisco. She enjoys sharing her thoughts on financial services emerging technologies through her blog.