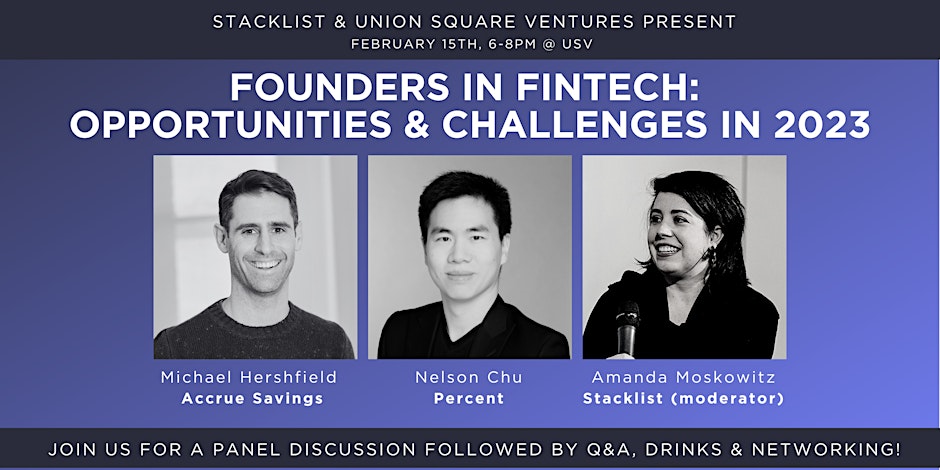 TL:DR
Join us February 15th, 6-8PM, at Union Square Ventures for a panel discussion for early-stage fintech entrepreneurs. We'll have cocktails & networking after the panel! 🍷🍺
Our speakers!
• Nelson Chu // Founder & CEO of Percent, a modern credit marketplace, empowering investors, borrowers, and underwriters with innovative technology to increase the speed and velocity of transactions at a fraction of the cost.
• Michael Hershfield // Founder & CEO of Accrue Savings built to help smart brands incentivize shoppers with cash rewards when they save up for big purchases.
What We'll Cover:
New York has become a hub of fintech startups changing how we handle insurance, loans, payments, investments, and more. That's why we're thrilled to announce Fintech by Stacklist, a new monthly event series just for fintech enthusiasts.
We will dive deep into the unique challenges fintech startups face in an increasingly crowded landscape, like strict regulatory oversight, rigorous security requirements, and high costs associated with launching a fintech product.
• Identifying your target market
• Understanding & adhering to rules and regulations
• Developing your product
• Partnering and integrating with legacy financial institutions
• Fundraising
• Trends in fintech
Questions? Email us at marketing@stacklist.com! See you soon!!