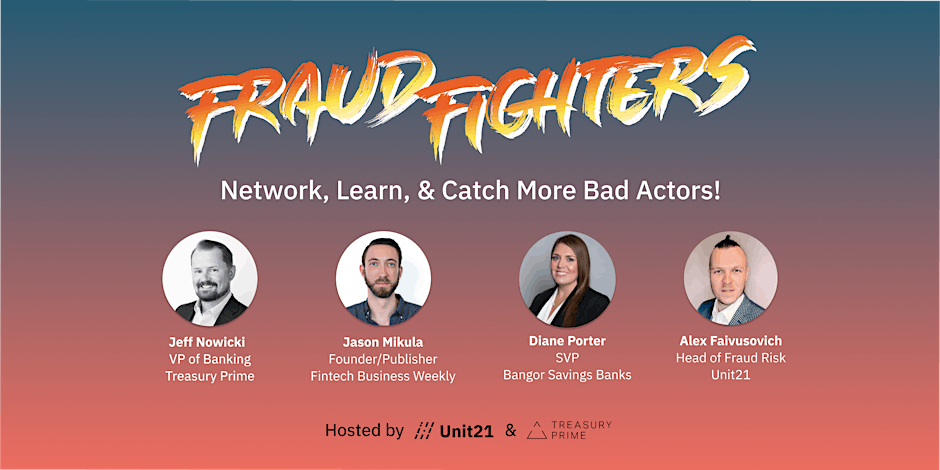 Fraud is constantly evolving and staying one step ahead is key!
In a recent survey, 31% of professionals say that identifying new fraud schemes is the most important, and 24% said modifying their software to catch it was equally as important!
Join Unit21 for an invite-only event on April 25th, 6-9 PM ET to network and learn from other fraud leaders at companies like Treasury Prime, Bangor Savings Bank and Unit21
Join us and learn:
The evolution of fraud and how today's businesses are failing to keep up.
How to adapt risk and compliance processes, tools, and systems to be more agile and prevent revenue loss.
How modern leaders can build and scale effective fraud and AML teams.
Attendees will also get a Fraud Fighters Kit!
Location:
High Bar NYC Rooftop
346 W 40th St, New York, NY 10018
Agenda:
6pm: Check-in, grab a drink, and network
6:15 pm: Introduction
6:30 pm: Panel w/ Treasury Prime, Unit21, Fintech Business Weekly, Bangor Savings Bank
7 – 7:10 pm: Q&A
7:10 pm: Demos
7:10 – 9pm: Unlimited food, drinks, and networking
Seats are limited, reserve your free ticket today!