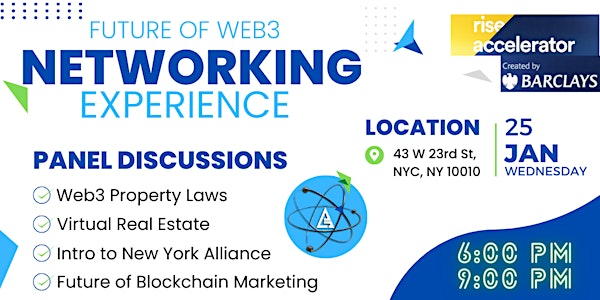 From the producers that brought you: "Identifying Career Paths in Gaming" and "How Crypto is Empowering a New New York", comes a new year launch celebration event for web3 & real estate industry leaders, professionals, investors and players.
#RealEstate #Investors #Metaverse #ExpWorld #Realtors #Lawyers #Brokers #Agents #Developers #Designers #Web3 #3D
Get your ticket for — Wednesday, January 25th 2023 — to join us to eat, drink, play, learn and connect with progressive professionals using technology to spearhead 2023+.
**Tickets include food, drinks and games!!
Special Guests speakers and early bird access to play and explore unreleased metaverse games and properties. SPACE LIMITED!
#trilliondollarindustry #financialliteracy #writeoffs #learnmore