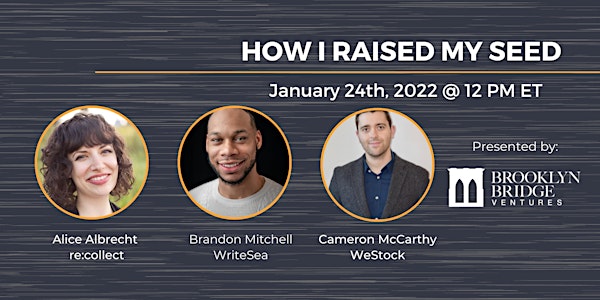 How I Raised My Seed is a gathering centered around open discussion regarding best practices for raising a seed round. Every other month, we invite two or three founders who have successfully raised a seed in the past few months and foster an open dialogue around what worked and what didn't.
*Link to the live-stream will be sent to you prior to the event.*
Speakers:
Alice Albrecht, Founder & CEO at re:collect
Alice is the founder/CEO of re:collect, a startup building an AI-powered thought partner. She has 10+ years of experience leading and advising teams building AI/ML-powered products and holds a Ph.D. in Cognitive Neuroscience from Yale University. I attached a photo in case you need that as well. 
Brandon Mitchell, Founder & CEO at WriteSea
Brandon is the Founder and CEO at WriteSea, one of the fastest-growing SaaS platforms that helps job boards, hiring platforms, and associations to unlock revenue and elevate their member experience. Over the past seven years, Brandon has helped thousands of jobseekers land their next job opportunity and trained resume writers to scale their businesses. Prior to launching the company, Brandon worked as a technology consultant for PwC, a global accounting, and advisory powerhouse. He has been featured in Yahoo Finance, Earn Your Leisure, Black Wealth Renannisance, and Linkedin for his career and technology insights. He is a go-to resource for automation and scalability. Brandon is passionate about helping small businesses succeed and frequently facilitates corporate workshops for Fortune 500 companies, including Google, Mr. Cooper, and Morgan Stanley.
Cameron McCarthy, Co-Founder & CEO at WeStock
Cameron McCarthy is currently the CEO and Co-founder of WeStock. A Techstars-backed company that helps brands unlock omnichannel success through first-party data. The company has continued to grow since launching in 2019 and now has over 700 brands and 150,000 shoppers using the platform. WeStock recently raised a $2.2M seed round led by Laconia Capital.
Cameron was previously the sales director for Delighted By Hummus, where he grew the brand to over 7,000 retail locations including Target, Costco, and Aldi. Cameron has worked both on the distribution and brand side prior to starting WeStock, accounting for over $50M in retail sales.
Cameron has a deep passion for emerging brands and what the future of retail will look like which he discusses weekly on The Honest Retail Podcast.
Moderator:
Charlie O'Donnell, Partner, Brooklyn Bridge Ventures
Presented by:
Brooklyn Bridge Ventures & Primary
Primary isn't just a shared office space – they offer amazing amenities such as 24/7 access to their Peloton bike room, unlimited virtual and in-person fitness classes, beautifully designed conference rooms & common spaces, and engaging networking events. It's a place that Members are truly excited to call their work "home".
If you're looking for a vibrant workspace where you feel inspired and productive, they invite you to trial a day in one of their spacious offices – you can use this link to book at your convenience. You can also click here to see a quick 1-minute video snippet of what they have to offer.