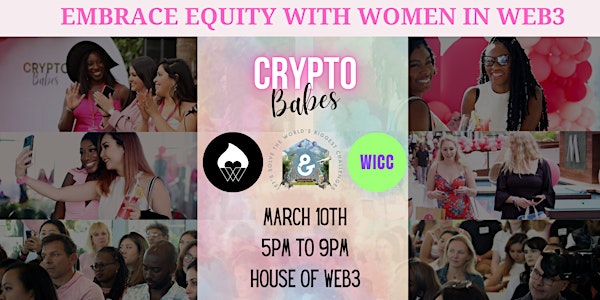 In collaboration with Women in Web3, Women in Crypto, and House of Web3 we come together to celebrate the accomplishment of women in this ecosystem. This year's IWD theme is embracing equity, and we aim to honor this theme by inviting women from diverse backgrounds in web3 and tech and sharing their stories of success and struggles. This event will be filled with art activations, panel discussions, and networking opportunities, so you don't want to miss out!
Important: This event welcomes everyone, but our focus is women.
About the Hosts:
Crypto Babes is a community for women looking to grow, learn, and earn in Crypto! Our community of 20k+ members across all social media is now curating the best IRL events.
Women of Web3: A community-owned venture builder for women turning their passions into ventures and innovating in web3.
Women in Crypto: They provide education, recruiting, community, and investment aiming to help cultivate technical builders and entrepreneurs in the web3 space.
Edge and Node House of Web3: The House of Web3 is especially for web3 pioneers and those who contribute knowledge, education, and code to the community at large. Through the tools and platform of decentralization, the House of Web3 inspires and designs solutions for the challenges we collectively face.
Agenda
5:00-6:00 pm Networking and Mingle
6:00- 6:15 pm Welcome and Intro
6:15-6:45 pm Group activity
6:45-7:15 pm Panel discussion
7:15- 9pm Networking and Art workshop
Vendor Booths:
Are you a woman-owned business interested in showcasing your brand to our 100+ attendees? Vendor booths include professional photography/videography available to highlight your products, a table and chairs and complimentary event tickets for you and your team.
Click here to learn more