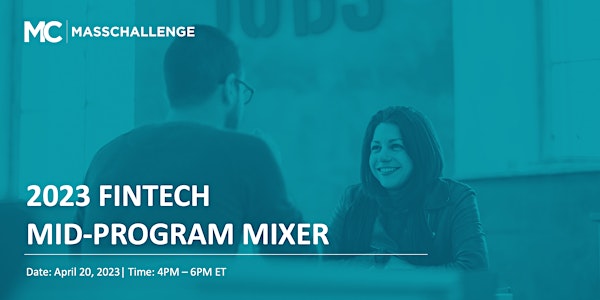 RSVP TO CELEBRATE:🏆 The 2023 FinTech founder's mid-program achievements, wins, pivots, and continued personal and professional growth throughout the Program!
🤝 The continued support of our Community of MassChallenge Mentors. Through the Mentorship Program, our army of mentors have supported hundreds of startups over the years.
Don't miss out on your chance to attend, meet and network with successful FinTech entrepreneurs, Community and Challenge Partners, FinTech Mentors, Experts, Judges and Alumni, and others from the MassChallenge and New England FinTech ecosystem, whilst enjoying light refreshments and snacks at our Boston Office.
Want to join the world's top global innovation network for high impact startups? 👉 Join Now 👈
MassChallenge's proven methodology hyper-focuses on helping founders identify goals and key initiatives, providing access to a meaningful network of experts and mentors, while also providing connection to a deep peer network from across the global community. All for no equity and no strings attached.
MassChallenge FinTech accelerates outcomes-driven partnerships between startups and enterprises to fuel innovation across banking, insurance, asset management, and other financial sectors. Our partners' challenges have C-Suite support, budget, and resources, and now they need YOU to help them tackle these issues. In turn, you'll benefit from their deep subject matter expertise and explore avenues that further validate your solution.