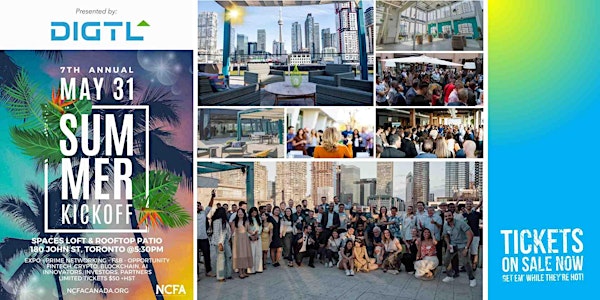 PATIO TIME IS BACK!!Join the National Crowdfunding & Fintech Association of Canada, DIGTL, Invest Hong Kong, Pateno Payments, Bitvo, Liquid Avatar Technologies, DC Bank, Spaces, United Craft, Take It Easy Group, eThereLive, and partners and Canada's leading Fintech & Funding community in the heart of trendy Queen West for an evening of celebration, partnerships, reconnecting with peers, and prime networking mixer.
Launching, scaling or interested in disrupting the finance industry, raising capital or participating in Canada's growing fintech, blockchain, crypto, web3/4/5, DAOs, digital assets, DeFi, AI, and open banking, sustainable finance, crowdfunding, payments, digital identity, and alternative investing sectors?
Here's a perfect opportunity to connect with stealth and emerging startups, scale-ups, and industry experts, and strategize with partners, pitch investors, and mingle with Toronto's burgeoning fintech and funding ecosystem.
***** PRESENTED BY DIGTL *****NCFA 7th ANNUAL SUMMER KICKOFF EVENTDate:  WEDNESDAY, MAY 31, 2023When:  From 5:30PM to 9PMVenue:  SPACES, 7th Floor Loft & Rooftop PatioWhere:  180 John Street, Toronto, ON M5T 1X5 
LIMITED TICKETS – GET'M BEFORE GONE! (>60% SOLD)1 Ticket $50 each2 or more Tickets $40 each•   Each individual ticket include entrance to private event, drink tickets, food, entertainment, lots of fun and prime networking
• Taxes and eventbrite fees extra. No refunds after May 15 (credit and transfers ok)
• Want to pay in crypto? Email us for an address info@ncfacanada.org
• If it rains, we're covered….literally inside.
• Check out some photos from prior years here and 2 years ago and 3 years ago
•
Affordable nearby parking: here and here
PROMO DEALS:NCFA Members (Only) Click to –> SAVE 20% (CODE = NCFA_MEMBER_DEAL)Not yet a member? Join now for free and saveThis event is for entrepreneurs and investors who are reimagining the future of finance in all sectors of Fintech, Blockchain, Digital Finance, Payments, Crypto, Web3/4/5, AI, and Alternative Investing Community AND all innovative companies raising capital. Innovators and investors interested in financial innovation, deal flow, networking and collaborating with startups, investors, angels, early stage-focused VC's and industry experts and developers in alternative finance, fintech, digital banking, blockchain, crypto, metaverse, web3, defi, refi, cefi, challenger banks, payments, open finance, P2P crowdfinance, wealthtech, insurtech, regtech, digital marketing platforms, innovators, investors and entrepreneurs.• Women founders
• Companies actively raising capital, seeking investors, partners, advisors
• Investors and syndicates interested in investing
• Fintech advisors, consultants, and development experts (startups, institutions, researchers, academia, government)
• Financial innovators and developers looking to partner or collaborate
• High growth fintech start-ups (stealth mode) and scale-ups. Private or public.
• Developers looking for opportunities and to connect with businesses
• Funding platforms, dealers, providers and their client networks
• Anyone interested in emerging fintech trends, regulations and industry developments
Event Host and Partners:NCFA CanadaThe National Crowdfunding & Fintech Association is a financial innovation ecosystem that provides education, market intelligence, industry stewardship, networking and funding opportunities and services to thousands of community members and works closely with industry, government, partners and affiliates to create a vibrant and innovative fintech and funding industry in Canada. Decentralized and distributed, NCFA is engaged with global stakeholders and helps incubate projects and investment in fintech, alternative finance, crowdfunding, peer-to-peer finance, payments, digital assets and tokens, blockchain and cryptocurrency, regtech, and insurtech sectors.
For more information, please visit: ncfacanada.org
 ______________________________________
DIGTLConnecting the world's best assets with global investors through a network of digital securities exchanges, allowing issuers to quickly access the world's capital at a fraction of the cost, and providing investors with exciting investment opportunities.
For more information, please visit: DIGTL
 ______________________________________
INVEST HONG KONGInvest Hong Kong is the government department created to encourage and facilitate overseas business to set up and expand in Hong Kong. We have teams of business specialists in Canada and Hong Kong dedicated to assist you to advance your business plan in Hong Kong and beyond.
For more information, please visit: Invest Hong Kong
 ______________________________________
SPACES We believe work is about people and ideas. Our Spaces are inhabited by forward thinkers, innovators and game changers who are confident in achieving their goals. Whether you are a small business, entrepreneur or a corporate intrapreneur, at Spaces we help our community to expand their horizon.  Our free-spirited vibe attracts an energetic community of positive and open-minded business thinkers who love to meet new people. The full program of professional events and hospitality services, and the inspiring sophisticated European design of our business clubs, involves people in the buzz and energy of Spaces, and make them feel at home.  By creating dynamic workspaces with a unique and entrepreneurial spirit we help you think, create and collaborate while our friendly team sees to all of the background logistics and services. At Spaces we make sure that our community can focus on driving their business forward.
For more information, please visit:  SPACES
 ______________________________________
LIQUID AVATAR TECHNOLOGIESLiquid Avatar Technologies Inc. focuses on the verification, management and monetization of Self Sovereign Identity, empowering users to control and benefit from the use of their online identity. The Liquid Avatar Mobile App, available in the Apple App Store and Google Play, is a verified Self Sovereign Identity platform that empowers users to create high quality digital icons representing their online personas. These icons allow users to manage and control their digital identity and Verifiable Access and Identity Credentials, and to use Liquid Avatars to share public and permission based private data when they want and with whom they want.
The Liquid Avatar Verifiable Credentials Ecosystem (LAVCE) has been developed to support all participants in a digital credential ecosystem, including the Holder, Issuer and Verifier, using state-of-the-art blockchain and open standards technologies initially as a node on the Indicio Network. The Company recently announced its LQID CARD, a unique US payment card, and the world's first Metaverse Rewards program. The LQID Card a cash back and reward program that has over 600 leading online merchants and is working to release its own branded network payment card. The Company's subsidiary, Oasis Digital Studios, is a creative and development agency that supports a wide range of artists, talent, and enterprises with Non-Fungible Token (NFT) solutions and has acquired 50% and controls the Aftermath Islands Metaverse program.
Liquid Avatar Technologies Inc. is publicly listed on the Canadian Securities Exchange (CSE) under the symbol "LQID" (CSE:LQID). The Company also trades in the United States, on the OTCQB under the symbol "LQAVF" and in Frankfurt under the symbol "4T51".
 For more information, please visit: Liquid Avatar Technologies
 ______________________________________
BITVOBitvo is on a mission to become Canada's premier cryptocurrency trading platform. With a focus on customer service, security, and transparency, we make cryptocurrency trading accessible for all Canadians.
For more information, please visit: Bitvo
 ______________________________________
PATENO PAYMENTSPateno Payments is the only business payment solutions you will ever need. Our innovative payment solutions ensure a more streamlined, secure and flexible way to transfer money. Via our API technology, you can initiate payments from existing web pages, portals, and apps, scaling your capabilities as your industry changes. From tip disbursement to loan management payments, our highly intuitive and simple-to-use system can be easily integrated, instantly enhancing and streamlining your money transfers. Safe, secure and advanced, experience the next generation to online business payment solutions with Pateno. Contact our sales representative to learn more today about our online payment solutions.
For more information, please visit: Pateno Payments
 ______________________________________
DCBANKDCBank is a Canadian leader in digital payment solutions for corporate online banking, empowering financial institutions and FinTech entrepreneurs to effortlessly scale their business. DCBank offers extended functionality thru our best-in-class API developer tools, so that you have full control over the services you provide.
For more information, please visit: DC Bank
 ______________________________________
UNITED CRAFTUnited Craft is an Ontario-based craft beverage company that is all about flavour innovation. We offer new flavours and styles of alcoholic beverages that suit today's lifestyles and emerging consumer preferences.
United Craft works with some of Ontario's best craft beverage producers to create natural, better-for-you recipes using unique combinations of hops, herbs, flowers, fruits, grains, specialty yeasts, and (new in 2022) nutrient-rich maple water. Our beverage offerings are all made in small batches and range from those with low alcohol and/or low sugar to traditional award-winning favourites as well as tasty seasonals flavoured with coffee, pecan, hibiscus, ginger, honey, blackberry, pineapple, peach and other popular fruits.
New for 2022 is Hail Caesar Korean BBQ (a vodka-based bold and tasty drink), Eden Grove Zero Sugar Apple Cider, Sip Elderflower Cherry and Juniper Line Maple Water Radlers, and Flair Los Sangria. YUP lager won the GOLD medal at the Canadian Brewing Awards and Tomorrow Brew Co's Honey Ginger Shandy and Coffee Milk Stout won GOLD at the Ontario Brewing Awards. Moi Mosa and Moi Jito are now top-selling malt-based radlers inspired by popular cocktails.
For more information, please visit:  United Craft
 ______________________________________
TAKE IT EASY GROUPFounded in 2017, Take It Easy Group's mission is to help your Seed & Series A start-up scale for success. Our team of experienced Executive Assistants are your strategic partners, with proven methods to keep your business organized and efficient, so you can focus on growth.
For more information, please visit: Take It Easy Group
______________________________________
ETHERELIVEeThereLive is a division of Soundbox Pro and live streaming and hybrid event production specialists.
For more information, please visit: eThereLive
______________________________________
Interested in getting involved as a partner? Contact us:  casano@ncfacanada.org*Seeking a few volunteers to assist 
See you there!