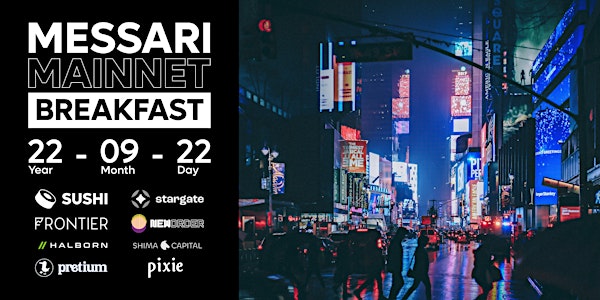 Join your Crypto BFF's from Sushi, Stargate, New Order, Frontier Wallet, Pretium, Halborn, Pixie Creative and Shima Capital for pastries, coffee, and DeFi related conversation over breakfast September 22nd from 10 AM – 1 PM at Downtown Coffee House at 26 Jefferson Street, New York.
Sushi: Swap, earn, stack yields, lend, borrow, leverage cryptocurrencies all on one decentralized, community-driven platform.
Stargate: Stargate is a fully composable liquidity transport protocol that lives at the heart of Omnichain DeFi.
Frontier Wallet: Frontier is a Crypto & DeFi, NFT wallet where you can send, store & invest in 4,000+ crypto assets. Earn passive income on your crypto by staking or suppling assets in DeFi apps and explore web 3.0 from a single place.
New Order: New Order DAO is a leading DeFi-first incubator, accelerator, and builder community.
Halborn: Halborn brings award-winning, ethical hackers and blockchain specialists into your company to protect the services and apps working directly with your preferred protocol from cyber attacks.
Shima Capital: Shima Capital is an early stage VC firm investing in disruptive crypto and Web3 companies. Shima is backed by Dragonfly Capital, Digital Currency Group, Tiger Global, Brevan Howard, Bill Ackman and other strategics (e.g. Huobi, ByBit, OKex, Animoca, Republic). Globally based, Shima works closely with its founders to hire talent, build product/community, fundraise, and amplify their narratives.
Pretium: Pretium helps you understand what is driving NFT value quickly and clearly, so you can buy and sell with confidence.
Pixie Creative: Pixie Creative provides leaders in fintech with resources and strategies that bring a magic touch to any creative experience.
From private parties and public media events to networking mixers and community awareness initiatives, Pixie Creative brings your vision to the vanguard.