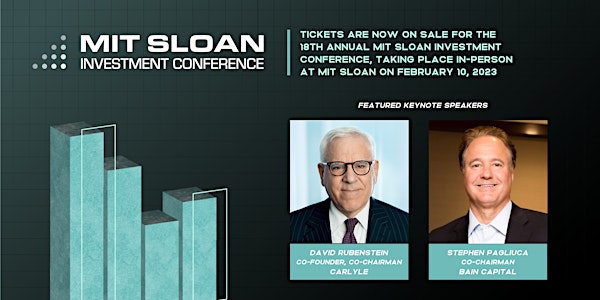 The MIT Sloan Investment Conference is an annual student-led event that brings together some of the most notable individuals in the investment world to educate and connect a wide range of financial industry participants.
This year's theme is "Navigating the Turbulence", please join us to explore how worldwide investors are looking to navigate the current turmoil including inflation, recession, war, post-covid and geopolitical tensions. 2023 is set to bring in very different stories.
We are excited to have David Rubenstein as our opening keynote speaker at the upcoming conference. Previously, we had some amazing speakers including Ben Bernanke, Dina Powell, Sam Zell, and Peter Lynch and we're looking forward to having some great speakers join us this year as well.
We will have panels covering public and private markets, impact investing, crypto/blockchain, quantitative trading, technology/software, Latam and more.
For more information, please visit: https://sloaninvestmentconference.org/