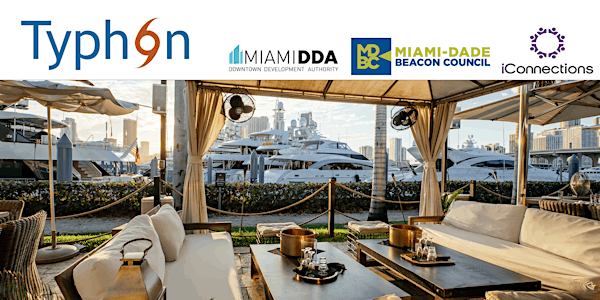 Whether you relocated to South Florida recently, or are a Miami native, we are pleased you are here and excited about Miami's continued trajectory as a global financial center.
If you are looking to network and get plugged in with other finance and tech folks -both new arrivals and old timers- please join us for our New-to-Miami Finance Happy Hour the first Wednesday of each month in season (November to May). These events are designed to be informal and open to all rather than pitchy. They were featured on Business Insider this Summer.
While we could buy you drinks, we think our tax policy is tastier. So, please BYO credit card.
Thanks and looking forward to starting the season off. Due to the overwhelming success of these events, we've been asked to limit the number of attendees , so do please do not share this invitation without asking us, but obviously we want to welcome as many new residents as possible.
About the Organizers
Typhon Capital Management is a multi-strategy hedge fund specializing in tactical futures, quantitative, and cryptocurrency trading. Typhon creates custom portfolios and structured products for institutional investors and wealth management firms and is headquartered in Miami Beach.
iConnections' fully customizable platform allows banks, brokerage firms and other service providers to remain fully connected and engaged with clients and prospects digitally. iConnections hosts the flagship event of Miami Hedgefund Week at the Fontainebleau Hotel.
The Miami-Dade Beacon Council, a public-private partnership, is the official economic development organization for Miami-Dade County. Led by a professional staff and Board of volunteer community leaders, the organization facilitates business growth and expansion locally, nationally and internationally.
The Miami Downtown Development Authority (Miami DDA) is an independent agency of the City of Miami funded by a special tax levy on properties within its district boundaries. The agency is governed by a 15-member board of directors, including three public appointees and 12 downtown property owners, business owners, and/or residents. The board sets policy direction, which is implemented by a multi-disciplinary team under the executive director's oversight.
You must be registered via Eventbrite for admittance. Please do not attend if you are experiencing any cold-like symptoms. By registering, you agree that attendance is at your own risk. The hosts are not liable for any illnesses that may occur as a result of your attendance. By registering, you consent to receiving emails from the organizers and their affiliates.