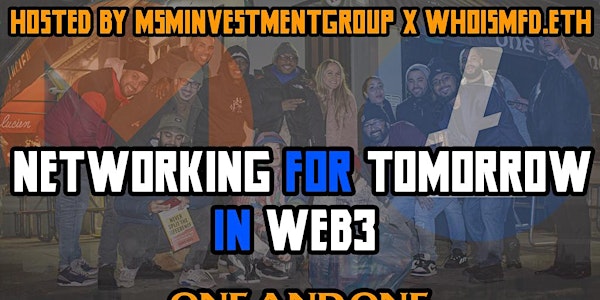 YOU HAVE FOUND GOLD.
Come network with people who are likeminded like yourself. We host the most diverse blockchain meetup event in New York. Our community stands by eliminating all bad characters from our events.
Networking For Tomorrow is a hub for Web3 education and creation. We host monthly IRL events in NYC and in various metaverses; discussing the benefits and use cases for blockchain technology. We are creating an ecosystem to connect the founders, establishing the tools with the appropriate companies. This is an excellent opportunity to learn about what's going on in this new world.
We are empowering diverse and underrepresented communities by connecting them with others in their industry, providing them with experience and opportunity to make their ideas a reality. Our team of skilled individuals offer support to those who need it to create change in their lives, community, and beyond.
If you are new in the crypto space do not worry we will try our best to help on board you! We are normally always on twitter spaces but you can also join the telegram group to ask questions. Everyone are welcome even if you are just looking to have fun!
Open Mic/ Panels coming soon please inquire .
https://www.instagram.com/knowledge_msm/
https://www.instagram.com/whoismfd_nft/
https://www.instagram.com/msminvestmentgroup/