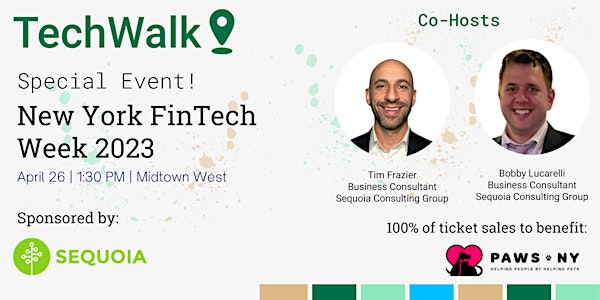 Join us for a special edition of our weekly TechWalk series in celebration of NY FinTech Week hosted by Empire Startups!
Big thanks to our sponsor Sequoia Consulting Group for helping us to build a different sort of networking event for members of the Tech and SaaS communities to get outside, meet new people, and enjoy some fresh air, while practicing mindful movement.
Every week, we'll gather at an easy-to-find meeting spot and then take a leisurely stroll through Central Park, appreciating the scenery and forging new connections in a friendly and inclusive setting.
This is a chance to network, share ideas, and connect with friends both old and new, in a  healthy and refreshing alternative to the average happy hour.
This edition of TechWalk will be supporting Pets Are Wonderful Support (PAWS) NY which provides services to vulnerable New Yorkers who need support caring for their pets due to physical and financial obstacles they face, with particular emphasis on low-income older adults and individuals living with illness or disability.
So whether you're looking for a new role or just need a break from the daily grind, all are welcome. We look forward to seeing you there!