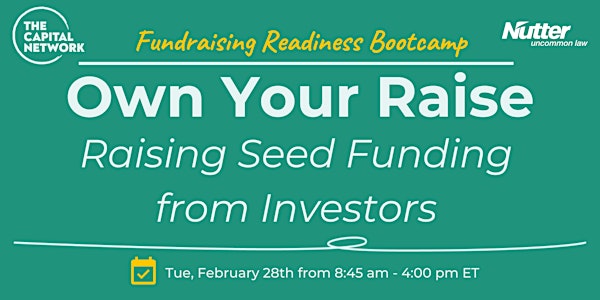 The Capital Network's in person Fundraising Bootcamp for Early Stage Entrepreneurs is BACK! It is an intensive & interactive full-day seminar designed to provide entrepreneurs an in-depth understanding of what it takes to raise early stage capital and actionable knowledge to help you Own Your Raise!
You will spend the day learning from and interacting with New England's leading investors, entrepreneurs, and industry experts through workshops, panels, and discussions. You will leave the bootcamp with concrete materials and actionable advice that will help you get a clear picture of where your business is at, understand the economics of venture funding, and learn how to close the deal with investors. You will also build meaningful connections with investors, mentors, and fellow entrepreneurs who can support you along the way.
Agenda:
8:45 – 9:00 am — Check in and Breakfast
9:00 – 9:10 am — Welcome and Intros
9:15 – 9:30 am — An Investor's Perspective: The Startup Funding Landscape
• What might the funding environment look like in 2023 and beyond?
• What does this mean for female founders specifically?
• How can startups weather a market downturn?
Speakers to be announced soon!
9:30 – 10:30 am — Money & Metrics: Understanding your Business and Getting Ready for Fundraising
Now that you understand the funding landscape, use the Lean Canvas method to help you get a clear picture of all the pieces of your company and the stage you're at. You'll build your own lean canvas to break down and analyze your business model to maximize your fundraising prospects.
Speakers to be announced soon!
10:35 – 11:35 am — Economics of Venture Investing: Dilution and Valuation
Once you're clear on your business model and stage, you're ready to start thinking about fundraising! Founders should have a clear understanding of the impact of venture investing on their startups and ownership BEFORE jumping in. Join our legal expert & a female founder who has successfully raised to learn about the economics of investments, how to arrive at a valuation that is maximized to your startup's benefit, and how to best mitigate the dilution impact on your ownership.
Speakers to be announced soon!
11:40 am – 12:20 pm — Negotiation and Strategy: Closing the Deal with Investors
Understanding what your business needs and the economics of venture investing is just the beginning — continuing to sell (and run!) your company during intensive due diligence, deep dives, and term negotiations while pulling together investors from various groups to close up your round is when the hard work begins! Learn from a female founder and her investor on how they communicated and negotiated to close a round of investment. They will share their honest takes from the field on what helped them build a great working relationship to help them close the deal.
Speakers to be announced soon!
12:30 – 1:45 pm — Lunch with 30+ Investors & Mentors
1:50 – 2:45 pm — Startup Pitch Practice
Now that you have a better understanding of the fundraising process, it's time to practice your pitch! Founders who are interested in participating in this session will sign up in the morning and each will have 2 minutes to pitch & 3 minutes to answer questions from the investors. Founders & investors in attendance will vote for their favorite 3 pitches at the end of the session.
3:00 – 4:00 pm — Office Hours with Legal Experts
After all that, you'll probably have questions on legal issues. Sign up for office hours with the legal experts from our partner Nutter to have those questions answered! Topics could include:
• Startup Employment Issues
• IP Matters for Startups Seeking Early Stage Investment
• Choice of Entity: LLC or Corporation?
• Pre-Investment Founders Agreements
• More to come!
Please note:
• By attending this event, you agree to be photographed and/or filmed and give permission to use your likeness in promotional and/or marketing materials.
•
The Capital Network events are open to entrepreneurs and investors only, or approved guests of The Capital Network. Service providers of any type must join The Capital Network as a Sponsor. Email team@thecapitalnetwork.org for details.
Follow us:
Website: https://thecapitalnetwork.org/
LinkedIn: https://www.linkedin.com/company/the-capital-network/
Twitter: https://twitter.com/TCNupdate
Facebook: https://www.facebook.com/tcnupdate/
YouTube: https://www.youtube.com/c/ThecapitalnetworkOrg/videos