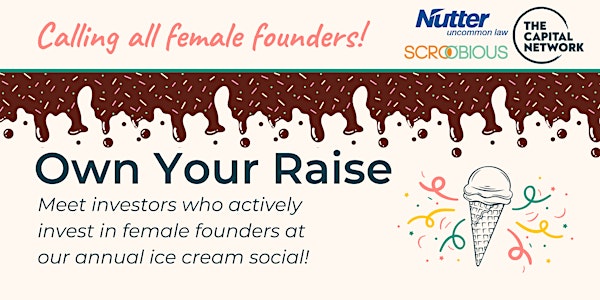 We're running this event IN PERSON. Any questions, please email events@thecapitalnetwork.org
—————————-
Are you planning to fundraise in the next few months? Take a break from constantly pitching your company to investors & let them pitch to you instead!
Are you a startup founded or co-founded by a woman? Do you have women in your C-suite? Well then join us! We've curated a group of investors with a proven track record of investing in women & gathered them all in one place! Join this event to hear from some of the angel groups, VCs, & individual investors in the Boston area working to close the funding gap for female founders and get a chance to network with them directly, all while enjoying some ice cream!
This event is in partnership with Scroobious.
Agenda
1:00 – 1:20 – Welcome & Investor Panel:
Allison Byers, moderator
More speakers to be announced soon!
1:20 – 2:10 – Investor pitches: hear from investor groups about how they invest, including their investment thesis, average check size, & how they support women-led startups
2:10 – 3:00 – Ice cream social: your opportunity to connect with investors who are actively investing in women!
By joining this event, you will walk away with:
• A slide deck containing information about each of the presenting groups/firms/individuals including information such as investment thesis, investment process, contact info, & more.
• Direct connections to some of the people/institutions writing checks to female founders.
• Connections with other founders like you.
• Ice cream!
Please note:
• This event is for companies with at least one female founder or C-suite executive.
• TCN events are open to entrepreneurs and investors only, or approved guests of TCN. Service providers of any type must join TCN as a Sponsor. Email team@thecapitalnetwork.org for details.
• By attending this event, you agree to be photographed and/or filmed and give permission to use your likeness in promotional and/or marketing materials.
Follow us:
Website: https://thecapitalnetwork.org/
LinkedIn: https://www.linkedin.com/company/the-capital-network/
Twitter: https://twitter.com/TCNupdate
Facebook: https://www.facebook.com/tcnupdate/