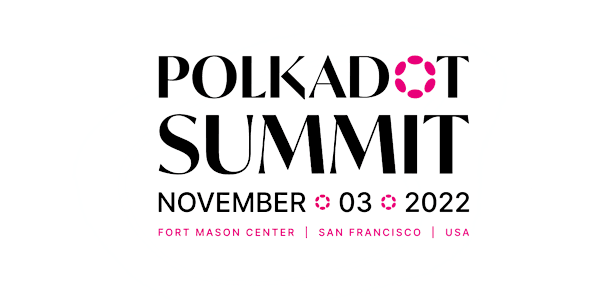 Join world-class teams as we gather at the epicenter of innovation to share the vision of Web3. A day of open discussions on the possibilities in the Polkadot ecosystem.
Take part in exciting talks, networking, and learning during two rooms of programming. Tracks to include speakers from leading Parachains, Parity Technologies, and leaders in Web3.
Polkadot is the brainchild of Dr. Gavin Wood – the co-founder of Ethereum and inventor of Solidity. Dr. Wood started working on his idea to "design a sharded version of Ethereum" in mid-2016. Polkadot is the most common crypto asset among VCs and hedge funds.
Astar Network – The Future of Smart Contracts for Multichain. Astar Network supports building dApps with EVM and WASM smart contracts. The focus is to offer developers true interoperability, with cross-consensus messaging (XCM). We're a team of developers made for developers. Astar's unique Build2Earn model empowers developers to get paid through dApp staking. This acts as a well-deserved compensation for the code they write and dApps they build.
Astar's vibrant ecosystem has become Polkadot's leading Parachain globally. We're supported by all major exchanges and Tier 1 VCs! Developers can build dApps on Astar with the same flexibility of Ethereum and WASM tools. Astar Space Labs offers an Incubation Hub – for top TVL – dApps to speed up growth on the Polkadot and Kusama Networks.
polkadotsummit.com
—-
We will discuss:
Infrastructure in Web3: How "decentralized" are we? After Tornado Cash, "decentralized" services enabled censorship as a response to sanctions. How much control do infrastructure projects have, and how decentralized are those projects? What are we doing to make the move in the right direction?
ZK and Privacy: Without privacy, blockchain becomes the most convenient global surveillance tool. Think about when we scale to over a billion users! What are the limitations of blockchain without privacy? How big of a problem is this surveillance?
Web2 vs Web3: So you want to work in Web3? Hiring, Culture, Ambassadors, Global Workplace, Decentralized Workforce. In Web2 there is a lot of paid advertising in marketing. While in Web3, you focus a lot on your community growth. In Web2, you focus on revenue generation and profitability. In Web3, you focus on delivering value and growing an ecosystem of applications and developers to be self-sustaining.
Investing in Web3: Eagerly building toward a blockchain future, we discuss topics that provide outlook for our industry. Which types of companies will lead us through the next bull cycle? What kind of growth can we expect in the next decade? What does success look like for blockchain VCs? Hear personal accounts from top VCs in the space.
Phat Contracts: Scaling computation and meeting the needs of next-generation Web3 developers. What it does, when to use it & demo of existing dApps.
Automation in Web3: OAK Network is Web3's hub for cross-chain automation. This enables multi-chain apps to schedule and automate Substrate extrinsic, ink smart contract, or EVM smart contract functions. We will discuss how dApps and smart contract developers can use OAK's automation via XCMP. See OAK's conditional transaction model with time, price, and blockchain event triggers.
Speakers Include:
Eric Wang, Head of Strategic Growth Projects, Parity Technologies
Yubo Ruan, Founder, Parallel Finance
Shawn Tabrizi, Runtime Engineer Lead, Parity Technologies
Yev Munchik, Founding Partner, Launch Legal
Sota Watanabe, CEO and Founder, Astar Network
Carolina Mello, Head of Content and Communications, Nodle
Robinson Burkey, Director of Growth, Acala
Logan Saether, CEO and Founder, Zeitgeist
Alex, Creator of Polkahaus
Devin Rabasso, BD, Zeitgeist
Zoé (Zora) Meckbach, Global Ambassador Lead, Polkadot
Joe Wu, CEO, Astrid DAO
Valeria Kholostenko, CMO, Astar Network
Kenny Li, Co-Founder, Manta Network
Girl Gone Crypto, Blockchain Media
Chris Li, CEO, Oak Network