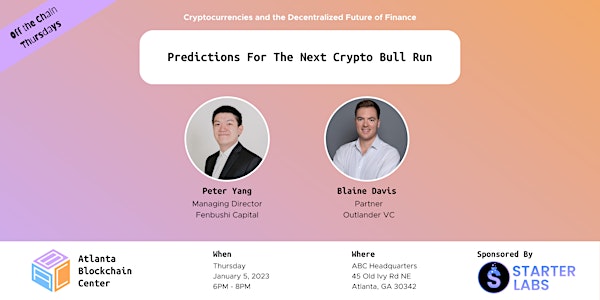 Our mission at Atlanta Blockchain Center is to be the catalyst for Atlanta's emergence 
as the premier blockchain innovation hub globally through cultivating entrepreneurship, inclusivity and education. ABC is a place to build community and learn, and so we'll host an event each and every Thursday at our co-working space in Buckhead – Atlanta's first co-working DAO – featuring leading experts on various blockchain content themes.
Join us. It's time to build 🚀
This week's theme is:
Cryptocurrencies and the Decentralized Future of Finance
Cryptocurrency and distributed ledger technologies are rapidly transforming the financial services landscape – as a new asset class, a payment method and a disruptive technology. How are blockchain and cryptocurrencies shaping the future of money?
This week's topic is:
Predictions For The Next Crypto Bull Run
In November, Bitcoin (BTC) dropped to two-year lows, while the rest of the market experienced strong selling pressure following the collapse of crypto exchange FTX. Inflation, rising interest rates and economic uncertainty drove investors to sell risk assets throughout 2022, including stocks and cryptos.
So where does that leave us now? When is the next bull coming and what are the early signs we should look out for? We've got an experienced panel to answer those questions and more!
About the Speakers:
Peter Yang is the Managing Director at Fenbushi Capital.
Blaine Davis is a Partner at Outlander VC.
-
Sponsored by Starter Labs
–
Food and beverage will be provided. Venue capacity is limited.
Parking Guide – Join Discord for Assistance
• Front of the Building ( facing Old Ivy Rd )
• Side of the Building ( facing NFT Mural )
• DO NOT Park at the bottom of the lot ( facing House of Fitness )