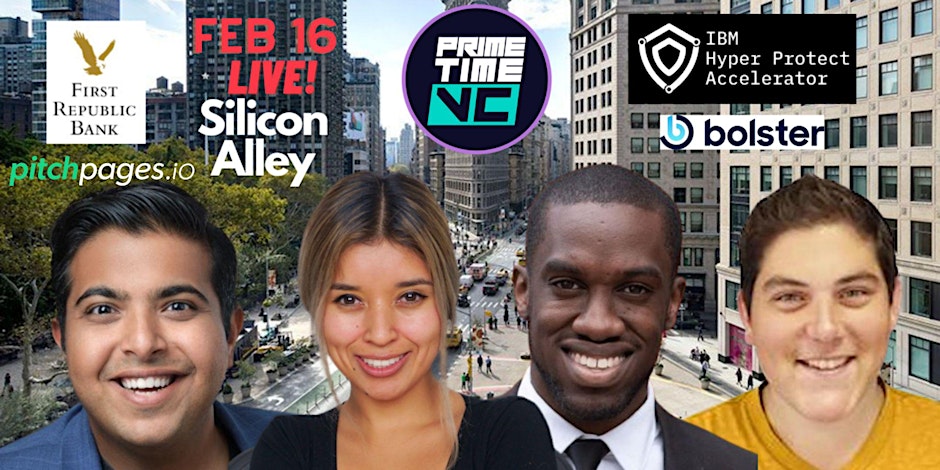 Come join this electric VC lineup:
Jay Kapoor, General Partner @VSC Ventures
Jay Estefani Castillo, Founding Principal @m]x[v Capital
Darrel Frater, Investment Associate @Visible Hands
Andrew Gluck, GP @irrvrntVC
PrimeTime VC is bringing its game show format to a live audience! We will kick off the madness with Four Venture Capitalists debating the latest news in tech, funding, and innovation. The goal of these events is to showcase the unique skillsets and opinions of veteran and emerging fund managers through a little competition!
Run of Show:
6pm: Networking, Food and Drink provided.
7pm: It's Showtime!!
8pm: Head to the local bar for Happy Hour and more networking!
This event wouldn't be possible without our partners!
First Republic Bank – offers personalized banking services for emerging fund managers. They tailor customized financial solutions to their needs with a perspective rooted in the long term.
IBM zSystems Twitter @IBMZ – The enterprise platform built to build the future of your business. Modernize and increase decision velocity with the new highly-secured IBM® z16™. https://bit.ly/3Qhw3t9
Bolster – Looking for talented executives? You're in the right place. Our marketplace of on-demand executives, board members, and mentors is built to bolster your business. Bolster helps startups scale their CEOs, CXOs, and Boards.
Bolster Marketplace Executive-level talent on demand for any company stage
Bolster Prime 18-month program led by experienced mentors to help startup CEOs scale
Bolster Ventures Venture fund that co-invests in select Bolster Prime clients
Pitch Pages – The first end-to-end solution for fundraising! https://www.pitchpages.io/
HqO – HqO enhances the 'Tenant Experience' through a mobile application powering office buildings with technology. The software helps tenants engage with the building amenities, grants mobile access, provides retail discounts & promotes on-site events.
Entre- The Professional Network for Entrepreneurs