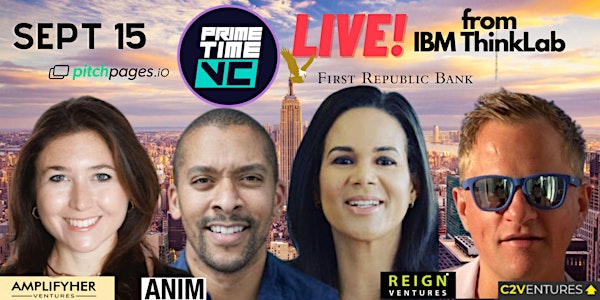 Come join this electric VC lineup:
Jason Scott – Partner @ANIM Fund
Meghan Cross – Partner @Amplifyher Ventures
Chris Cunningham – Founder & Managing Partner @C2 Ventures
Erica Duignan Minnihan – Founder & General Partner @Reign Ventures
PrimeTime VC is bringing its game show format to a live audience! We will kick off the madness with Four Venture Capitalists debating the latest news in tech, funding, and innovation. The goal of these events is to showcase the unique skillsets and opinions of veteran and emerging fund managers through a little competition!
Run of Show:
2pm: Networking, Food and Drink provided.
3pm: It's Showtime!!
4pm: Happy Hour + Networking
This event wouldn't be possible without our partners!
IBM zSystems Twitter @IBMZ – The enterprise platform built to build the future of your business. Modernize and increase decision velocity with the new highly-secured IBM® z16™. https://bit.ly/3Qhw3t9
First Republic Bank – offers personalized banking services for emerging fund managers. They tailor customized financial solutions to their needs with a perspective rooted in the long term.
Pitch Pages – The first end-to-end solution for fundraising! https://www.pitchpages.io/
HqO – HqO the leading Workplace Experience platform powering corporate offices with Technology to strengthen social infrastructure.
E2Generations – CTO-as-a-Service. A Software development agency helping businesses navigate their digital transformations.
Entre- The Professional Network for Entrepreneurs