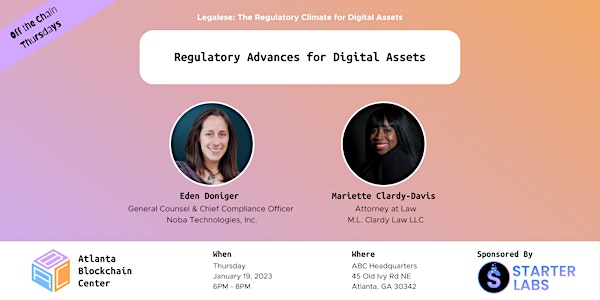 Our mission at Atlanta Blockchain Center is to be the catalyst for Atlanta's emergence 
as the premier blockchain innovation hub globally through cultivating entrepreneurship, inclusivity and education. ABC is a place to build community and learn, and so we'll host an event each and every Thursday at our co-working space in Buckhead – Atlanta's first co-working DAO – featuring leading experts on various blockchain content themes.
Join us. It's time to build 🚀
This week's theme is:
Legalese: The Regulatory Climate for Digital Assets
Effective regulatory design and implementation for digital assets is imperative but lacking. Digital assets and cryptocurrency challenge existing legal and regulatory definitions and frameworks. Regulators at both the federal and state levels have been working to try to protect consumers and investors, safeguard the financial system, and allow for innovation and competition.
This week's topic is:
Regulatory Advances for Digital Assets
What are the differences between digital assets and traditionally-traded instruments? What are the market enforcement actions taken to date by regulators as these assets become further entrenched in global financial markets? Regulators have identified stablecoins as posing one of the most immediate risks to the broader financial system because they are a key bridge between new and traditional markets.
Our panelists will discuss the regulatory advances in the digital asset arena and how regulation can protect consumers and investors, while safeguarding the financial system, and allowing for innovation and competition.
About the Speakers:
Eden Doniger is General Counsel & Chief Compliance Officer at Noba Technologies, Inc., a fintech startup that is bringing modern financial solutions to Latin America. Previously, Eden held the same role at BitPay, Inc., the world's leading cryptocurrency payments company. She has over 20 years of legal experience, including at top law firms and Cox Enterprises, where she specialized in litigation, cybersecurity, privacy and compliance. Eden is a graduate of Emory Law School and Princeton University and is also a Fulbright Scholar. She has three daughters.
Mariette Lynn Clardy-Davis of M.L. Clardy Law LLC is an accomplished professional with over 15 years of experience in providing legal and regulatory compliance services for clients. Mariette has over a decade of consulting and building regulatory compliance and AML programs for broker-dealer and registered investment advisory clients. She provides strategic legal advisory to Web3 focused projects and businesses, and is known for her excellent relationship and communication skills. Mariette has developed a keen interest in providing strategic and legal guidance for partnerships, collaborations, and strategic alliances in the Web3 space. Her ability to identify and foster mutually beneficial relationships among diverse stakeholders has proven to be a valuable asset for clients seeking to advance their projects and businesses in this field.
In addition to her professional accomplishments, Mariette is also a passionate mental health advocate. After being diagnosed with bi-polar depression at the age of 21, she uses her voice to empower and educate through speaking and training for non-profits, behavioral health facilities, professional associations, and corporations. She also serves as a Board Member of NAMI Central Georgia and is a member of the Atlanta Blockchain Center, Blackwomen Blockhchain, SheFi Fellow, Third Academy Metaverse Foundations, and a contributor to Bankless DAO and Bankless Consulting.
-
Sponsored by Starter Labs
–
The event will be live streamed: https://www.youtube.com/@atlantablockchaincenter8935/streams
Food and beverage will be provided. Venue capacity is limited.
Parking Guide – Join Discord for Assistance
• Front of the Building ( facing Old Ivy Rd )
• Side of the Building ( facing NFT Mural )
• DO NOT Park at the bottom of the lot ( facing House of Fitness )