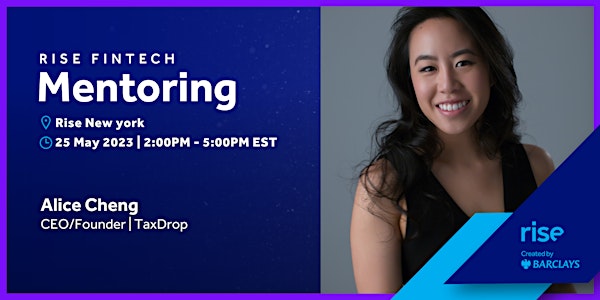 Alice Cheng is the CEO/Founder of TaxDrop, a public accounting firm specializing in startup financial statement audits for investor due diligence. Alice and her team work directly with founders on gearing up their financials to be investor-ready and US GAAP accounting standard compliant. She has assisted 360+ startups up to Series C in their financial audits and reviews, for launching crowdfunding campaigns, debt facility compliance, annual audit due diligence, and more. Alice grew up a competitive swimmer and aims to compete in a triathlon. Her favorite activities to unwind include board games, skiing, and exploring fine wines.
Topics to discuss:
• Full sweep of your financials: what do you need to clean up
• Accounting and finance best practices
• Establishing internal controls in corporate governance
About the Rise Mentorship Program
Our program welcomes Fintech startups to receive feedback from our guest mentors. Our mentors include individuals from around the Fintech community and have expertise in marketing, legal, fundraising, business development and other fields to accelerate startups' growth.
If you are accepted to attend the event you will receive an email with time confirmations. This event will be in-person, the 1:1 time slots are 40 minutes each.