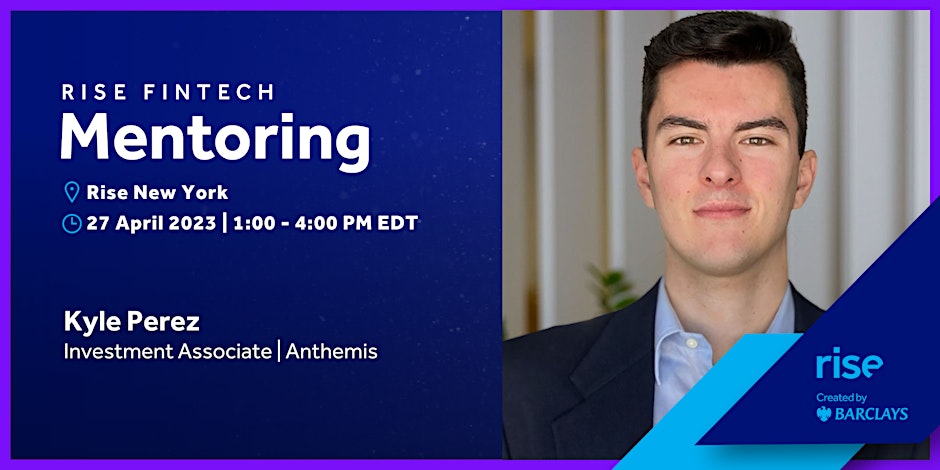 During this year's NY Fintech Week, Rise by Barclays is offering a mentorship session with Kyle Perez (Investment Associate at Anthemis) to 6 Fintech founders from our community.
Kyle Perez is an Investment Associate at Anthemis, responsible for sourcing and evaluating early-stage opportunities relating to fintech, insurtech and risk management. Prior to Anthemis, he served as part of the TMT group at Notch Partners, a boutique consulting firm specializing in executive-centric investment strategies for private equity firms. He has also worked with Pear VC as a Venture Fellow, helping source pre-seed and seed-stage companies.
Kyle graduated from the Olin Business School at Washington University in St. Louis with bachelor's degrees in Economics & Strategy and Marketing, where he also played soccer. He still plays soccer when possible and has become an avid Formula 1 fan.
About the Rise Mentorship Program
Our program welcomes Fintech startups to receive feedback from our guest mentors. Our mentors include individuals from around the Fintech community and have expertise in marketing, legal, fundraising, business development and other fields to accelerate startups' growth.
If you are accepted to attend the event you will receive an email with time confirmations. This event will be in-person, the 1:1 time slots are 20 minutes each.
This mentorship session is a part of NY Fintech Week 2023
In order for your startup to be considered for mentorship, you must submit an application. (please link to Google form)
https://docs.google.com/forms/d/e/1FAIpQLSdJsHlTCXcNiQBOP4PUlu4oAwS5Rdmi3IwvhN5Fgpyw7bCMkg/viewform