Pitch and network with venture capitalists, angels and accredited investors from Silicon Valley and throughout the country at the San Francisco Venture Capital Fast Pitch Conference.
Black Dog Venture Partners has hosted investor events throughout the west and has raised millions of dollars for start ups as a direct result of our fast pitch conferences.
Investor Panel:
Scott Kelly, Black Dog Venture Partners
Scott Kelly Founder and CEO of Black Dog Venture Partners, is a 25 year fundraising, marketing, sales, training and publicity veteran. Scott has raised millions of dollars in capital for disruptive companies, garnered national media coverage for hundreds of regional and national brands and generated millions of dollars in revenues for the companies he has represented. He has also trained over 1,000 sales people and has taught marketing at the university level in the United States and Europe.
Michael Hool, Hool Coury Law
Michael Hool is our founding Partner and is a pioneer in the field of venture formation and financing in the Southwest and California. Michael works with select companies as an advisor, legal counsel and periodically serves in executive and board capacities. Michael practice is focused primarily on corporate and commercial representation, securities, finance and venture capital, mergers and acquisitions, corporate governance matters, and all aspects of counseling emerging companies. He represents both issuing companies and investors in a large variety of financing transactions. In the past fiscal reporting year, the firm has assisted entrepreneurs in over $187 million in funding transactions and has assisted funds raise over $100 million for investment in emerging companies.
Michael represents or advises accelerators, incubators, and has formed three active angel investment groups, including ATIF (predecessor to AzTech Investors) and Canyon Angels. Michael has chaired or served on the board of Arizona Venture Capital Conference, BioAccel, AzTech Investors, Canyon Angels, and the Indus Entrepreneurs. Mr. Hool is currently active in formation of three separate seed stage investment funds. Mr. Hool is highly sought after as a speaker and author of papers on a broad variety of topics. Michael is also active as an investor in a growing portfolio of emerging companies.
Jiazi Guo- Venture Capitalist/ Investor
UC Berkeley alumni, Entrepreneur since age 16. Formerly Investment Banker, Hedge Fund. Currently active venture capitalist and mentor at TechStars, alchemist accelerator, 500 startups, plug-n-play.
David Lambert – Managing Director of Right Side Capital
David Lambert is Managing Director of Right Side Capital, one of the most active pre-seed stage investment firm in the US. Right Side Capital uses a quantitative, data-driven investment process to build out ultra-diversified portfolios of pre-seed stage technology companies. The firm has invested in over 1,000 portfolio companies since 2012 and is known for its quick and transparent funding process. They strive to give entrepreneurs a firm YES or NO investment decision in about a week. To learn more about Right Side Capital's target investment profile, go to www.rightsidecapital.com/submit.
David has lived in the Bay Area since 1988, and in San Francisco since 1993. Prior to co-founding Right Side Capital, David was founder & CEO of two Bay Area based technology companies over a 17 year period; one a hardware company, the other a software company.
Aakash Jain – Investor at Venture University
Previously, he was an advisor to several seed and growth-stage startups on their operational and fundraising goals, predominantly focused on the fintech and consumer verticals. Before that, he sourced and evaluated investment opportunities at Jump Capital in the areas of robotics, fintech, agtech and cybersecurity. Aakash co-founded Airport Sherpa, a startup that delivers food and retail to your gate inside the airport. Aakash also co-founded and is the Membership Lead of the Booth Bay Area Angel Network. Earlier in his career, Aakash developed algorithms for automated trading at Morgan Stanley. He holds a Masters degree in Business Administration from the Booth School at the University of Chicago, and a Masters in Computer Science from Cornell University. Aakash was a member of the founding class at Jacobs University in Germany, where he earned a Bachelors degree in Electrical Engineering and Computer Science.
MANY MORE INVESTORS SCHEDULED TO ATTEND!
Testimonials from past conferences: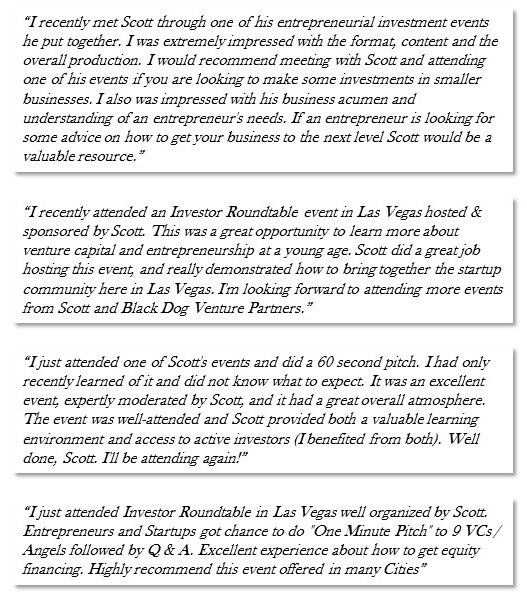 This event will sell out so register today!
Looking forwwrd to meeting you all.
Sincerely,
Scott Kelly, CEO
Black Dog Venture Partners