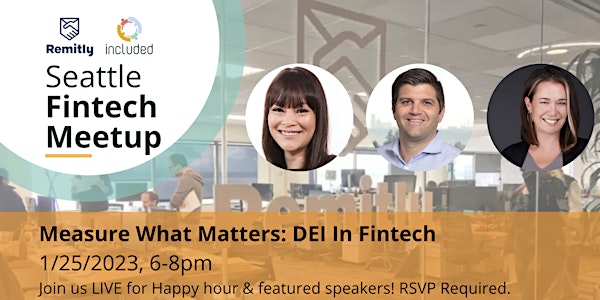 Welcome to the Seattle Fintech Meetup inaugural event of 2023! Remitly is excited to be partnering with Included to co-host a special event focusing on an important topic near to our hearts: diversity, equity, and inclusion in tech. Our theme is "Measure What Matters: DEI in Fintech."
Please join us on Wednesday, January 25 from 6:00pm-8:00pm at the Remitly Seattle office to hear three industry leaders talk about data-driven approaches to DEI.
Remitly is proud to run on DEI tech, leveraging Included's capabilities to locate and resolve equity gaps across the employee lifecycle. Included helps HR take a data-driven, AI-enabled approach to discover and continuously monitor opportunities to hire, retain, and promote a high-achieving, diverse workforce.
Featured speakers include: Chief People Officer of Assurance IQ Gulliver Swenson, VP of ESG at Remitly and national DEI expert Kim Vu, and Included co-founder Laura Close.
Agenda
6:00-6:30 — Arrival, networking, grab some food & beverages
6:30-6:45 — Gulliver Swenson, CPO @ Assurance
6:45-7:00 — Kim Vu, VP, ESG @ Remitly
7:00-7:15 — Laura Close, Co-Founder & Chief Business Development Officer @ Included
7:15-7:30 — Combined Q&A
7:30-8:00 — More time for networking
RSVP here: https://www.meetup.com/meetup-group-fintech-seattle/events/290112878/