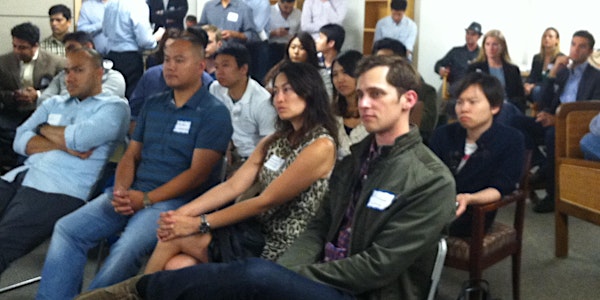 Welcome to Silicon Valley Funding Summit and VIP Investor/Startup Tech Mixer.View past events here:Silicon Valley Funding Summit Jan 4, Las VegasSiicon Valley Funding Summit, Oct 17, Santa Clara CATHIS IS OUR LARGEST STARTUP AND INVESTOR EVENT OF THE YEAR SO DON'T MISS IT WITH 120 INVESTORS AND 500 STARTUPS OR TECH EXECS!CALL OR TEXT 310 6216850 IF YOU STILL NEED ADDRESSAre you attending Tech Crunch Disrupt or Ericsson Imagine Possible in the SF Bay Area? Join our event on Monday before to meet 120 investors and 400 startups and tech executives.DEMO TABLE: $195This event is produced by Angel Launch and Startup House for startups and accredited investors. Its the same week as SF Tech Crunch Disrupt but we are not affiliated.
Contact Us: cell +1 (310) 621 6850  or info@angellaunch.com
This event is free for the first 200 accepted at discretion of host. You pay if you want to sponsor, pitch investors, host a demo table, or speak from the stage.
STARTUPS YOU REGISTER YOURELF TO PITCH FOR THE NUMBER OF MINUTES. ALL PITCHING SPOTS INCLUDE 2 MINUTES Q/Q, 2 VIP TICKETS AND A FREE DEMO TABLE IN THE DEMO SHOWCASE>
We cover these markets:
–Consumer, Lifestyle, Entertainment: Entertainment, Digital Lifestyle,Travel, Transportation, Automotive, Real Estate, Cannabis, Healthtech, Games, Music, TV, Advertising, Wellness and EdTech, eCommerce
–Enterprise, SaaS, Deep Tech : Software, SaaS, Cloud, Security, Bid Data, B to B Services, Cleantech, Healthtech, Cybersecurity, Privacy, Networking, Greentech, fintech, Real Estate, AI, Robotics, Sensors, Mobile, Internet of Things, Consumer Electronics, Transportation, Mobility, Homeland security, Fintech
–Digital Health, and Biotech : Life Sciences, Biotech, Digital Health Solutions, Wellness, Sports, Genomics, Medical Devices. Food, Agtech
–Crypto and Metaverse: Crypto, NFTs, Blockchain, Fintech,, Defi, Payments and Billing
INVESTORS JUDGE A PANEL:
Investors, we will invite you to judge a session during the day with startups. Just reply here info@angellaunch.com to request to be a judge.
Startups that should attend or pitch:
• Seed
• Early stage
• Pre-IPO
• Scaling
•
Investors that will attend:
• Angels
• VCs
• Corporate
• Family Offices
• Hedge Funds
• Institutional
• Private Equity
• Academic
• Accelerators/incubators
• Advanced Growth
______________________________________________________________
HOW TO ATTEND:
ATTEND:
You can apply to attend once accepted. This is an invite only event for investors, innovative early and advanced startups, corporate tech professionals and service providers.
Please register to attend in your category such as a startup, corporate executive, tech professional, service provider or accredited investor. Our hosts will select attendees for free tickets. Everyone else can purchase until we reach capacity. Once you are approved, we will send you an email with the address.
SPONSOR:
We have two types, sponsorships for startups to pitch and sponsorships for investors, vendors or services providers.
STARTUP SPONSORSHIP: PITCH TO AUDIENCE AND HOST DEMO TABLE IN DEMO SHOWCASE
UPDATE: STARTUPS PITCHING SPOTS ARE NOW SOLD OUT FOR THIS EVENT
Register to pitch investors and host a demo table in demo showcase. You register for your number of minutes. All pitching includes a 4 foot demo table. Many past startups have received funding from our events. Open for seed, early and advanced growth funding.
Presented in front of room with with full AV sound system and slide decks. We only enable Zoom pitching for remote startups and for investors asking questions for their pitch but not the entire event.
INVESTOR, VENDOR AND SERVICE PROVIDER SPONSORSHIP:
Sponsor this event for only $495 (silver), or $995 (Gold) and $1995 (Title) to meet new customers or prospective clients, raise your brand awareness and increase marketing and promotion.
SILVER SPONSOR $495: 4 Minutes Talk; Demo Table; 4 tickets; Judge
GOLD SPONSOR $995: 8 Minutes talk; Demo table; Judge session; 8 tickets; and you send us written message we include in 3 advance emails to attendees
TITLE SPONSOR $1995: Logo on Website; 12 Minutes Talk; Demo Table; 10 tickets; full attendee list with contact info (with consent); and you send us written message we include in 3 advance emails to attendees. Additional fee to be category exclusive such as a law firm. Limited to 4 sponsors.
___________________________________________________________
THERE ARE FIVE OPTIONS TO REQUEST TO ATTEND
1. Attendee: Attend as startup, tech professional, vendor or accredited investor
2. Investor: You can attend as investor or judge the venture session.
2. Startups Pitch: Pitch from Stage or Zoo, include table in Demo Showcase
3. Demo Tables: Startups, vendors or service providers purchase demo tables in Demo Showcase
4. Sponsor: Give 3-10 minutes talk; receive attendee list; receive demo table and tix
_________________________________________________________
Market Areas for Startups Who Should Attend or Pitch for Tech Ventures with Web or Mobile Apps, Services, or Platforms
CONSUMER and LIFESTYLE
Media, entertainment, mobile, digital media, video, You Tube, music, audio, games, augmented reality, virtual reality, TV, hardware, Internet of Things, apps, retail, health, wearables, Internet of Things, connected cars, self-driving cars, consumer electronics devices, travel, hospitality, tourism, health and wellness, hardware products.
________________________________________________________________
ENTERPRISE, SaaS, DEEP TECH
AI, robotics, Cybersecurity, Internet of Things, Smart Cities, sensors, Mobile, big data, analytics, communications, hardware, Internet of Things, apps, eCommerce, security, infrastructure, chips, cars, services, transportation, workplace, retail, e-commerce, clean tech, energy.
________________________________________________________________
BIOTECH/ HEALTH TECH
• That you have been fully vaccinated and boosted at least two weeks before the event in your home country.
• That you are not currently experiencing any of the following symptoms of COVID-19, as identified at CDC.gov, including, but not limited to:
• Cold; Fever or chills; Cough Shortness of breath or difficulty breathing; Fatigue; Muscle or body aches; Headache; New loss of taste or smell; Sore throat; Congestion or runny nose; Nausea or vomiting; Diarrhea;
• That prior to attending you have not been in contact with someone with confirmed or suspected COVID-19 symptoms without completing a 14-day quarantine;
• That you are not under any self-quarantine orders;
Life science, medical devices, ag tech, food tech, cannabis, healthcare services, management, operations, analytics, health and wellness apps.
________________________________________________________________
FINTECH, CRYPTO, BLOCKCHAIN
Big data, crypto, NFTs, Def Fi, Banking, blockchain, bitcoin, alt coins, real estate, lenders, cloud services, digital currency, metaverse.
________________________________________________________________________________________________________________
PAST ANGEL LAUNCH EVENTS TESTIMONIAL:
Endorsement from Mitchell Kominsky, Futureland Ventures,
"I am an investor in early-stage startups that are creating a more sustainable, connected, and resilient future. I recently participated as a judge for a Silicon Valley Investment Forum with Angel Launch, and was very impressed by the quality of startups. In fact, I am in discussions with one of the startups about a possible investment; and am appreciative of Angel Launch making that connection. I highly recommend other investors to judge and attend the programs, and startups to attend or pitch."
+++++++++++++++++++++++++++++++++++++++++++++++++++
Endorsement from Michael Gibstine, Managing Director, Hanover International.
"I work in Silicon Valley and attend many venture forums and investment summits. If you select one event to attend this year, I highly recommend Angel Launch events, either Silicon Valley Funding Summit in Las Vegas or Silicon Valley Investing Summit on Oct 1 in San Francisco. I have known the founder Zahava Stroud for eight years, and she produces the best regarded, highest quality summits for startups and investors. The events feature high quality innovative attendees from startups, investors and corporate partners; exciting customer experience with lavish food and drinks; and exceptional attendee experience with engaging discussions.
The events are impeccably organized with well crafted, thoughtful agendas addressing emerging tech trends; excellent speakers from top tier investment firms, VCs, corporate brands, and angels; and high level networking opportunities with demo tables. I have had follow up discussions with many high quality startups or advanced growth companies seeking capital. I highly recommend this summit to any person, company or agency that wants to bolster its connections to Silicon Valley; network with investors; meet high growth startups looking to expand their offices; and learn how to emulate Silicon Valley in your region."
_______________________________________________________________
COVID COMPLIANCE:
All attendees must self attest they were fully vaccinated for Covid -19. Please DO NOT attend If you are not comfortable with this policy, are high risk have close contact to high risk people or have any other concerns. We comply with County government guidelines which no longer requires masks or proof of vaccination.
Please be advised that a risk of exposure to COVID-19 exists in any event or public space, including the Event. Prior to registering for and attending the Event, please ensure you have read the latest CDC Guidelines for Prevention. By attending this event, you acknowledge this inherent risk and, as a condition of entering this space , you acknowledge, understand and confirm each of the following in accordance with applicable health guidelines:
Please do not attend this event if you cannot confirm all of the above criteria.
__________________________________________________________
PRIVACY REQUIREMENTS AND GDPR/CCPA:
Privacy Compliance: GDPR Compliance: If you reside in EU Country, UK or Switzerland, you agree we can contact you for follow up emails from Angel Launch.
CALIFORNIA CCPA Compliant: If you reside in CA, you must consent to receive emails from Angel Launch for this event and we request you agree we can provide your contact info to sponsors.