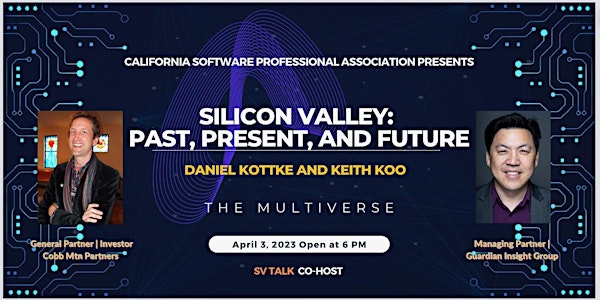 California Software Professional Association is honored to bring you legendary Daniel Kottke & Keith Koo to share SV's Past, Present and Future in an interactive thought-provoking fireside chat. CSPA is a volunteer based, 501(c)(3) non-profit founded in 1988. Our mission is to promote leadership, entrepreneurship, and education among our professional members across all segments of the technology community.
SPEAKERS
Daniel Kottke helped build Apple-1's in Steve Jobs' garage in 1976, and then worked full time on the Apple-II, Apple-III, and Macintosh at Apple 1977-1984. He has been involved with a dozen startups during his career, incl. Vertical Networks, Silicon Gaming, Gen'l Magic, fastmovie.tv, and Greenleaf Med. Sys. From 2005-2012, he was producer/host of The Next Step local cable show in Palo Alto. Current pursuits incl. smart-home integration for multi-tenant/co-living, and real estate dvlpmt. projects in E. Palo Alto and Soquel CA. Also, building Apple-1 replicas!
Keith Koo is a Founder and Managing Partner of Guardian Insight Group, a Strategic advisory firm whose clients include Fortune 500 companies and startups. He is also the creator and host of the Silicon Valley Insider Radio Show and Podcast and an Investment Banker with US Capital Global. Keith is also a member of the California Governor's Cyber Task Force and on the boards of several non-profits.
AGENDA
Food and drinks will be provided by our generous sponsor, The Multiverse
6:00 – 6:30 PM Registration and introductions
6:30 – 7:15 PM Fireside chat
7:15 – 8:00 PM Networking and collaborating
CO-HOST
Silicon Valley Talk is a platform for like-minded people to meet, learn and share worthwhile ideas and dreams. We will focus on a range of topics for AI, Blockchain, Cloud, Data, e-Commerce, Fintech, Gaming, Healthcare, and IoT.
SPONSOR
Gratitude to The Multiverse for providing the venue, food, and drinks
The Multiverse is a global investment, innovation, and entrepreneurship platform with Parallel Presence (physical & virtual) in 5 thriving tech ecosystems: Silicon Valley, London, Berlin, Singapore, and Beijing.