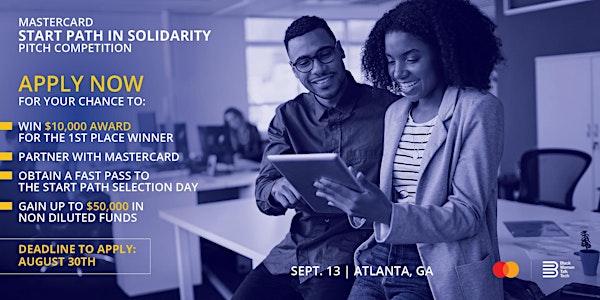 Unlocking access to resources for scale
Black Women Talk Tech and Mastercard are helping close the racial wealth and opportunity gap for Black communities across America. Mastercard invests directly in Black and underrepresented-led startups and increases procurement with Black-owned businesses. These investments are designed to have a catalytic impact on economic growth for Black communities.
On September 13th in Atlanta, GA, BWTT and Mastercard will host Start Path to Solidarity: Pitch Competition and Keynote. Join us for conversation with a leading investor and watch as three fintech founders compete for first place prize of $10,000 and second place price of $5,000 and the chance to be selected for the Start Path program. If accepted, the winner will receive up to $50,000 in non-diluted funds.
Prizes:
• 1st Place Prize: $10K
• 2nd Place Prize: $5K
• Both winners will be considered for entry into the Start Path Program to a chance to receive up to $50K
Register to join us in Atlanta.
Who can take part?
For Start Path In Solidarity we're looking for world-class founders who have a solution to solve pain points in the fintech space. DEADLINE TO APPLY IS AUGUST 30Tth. Click here to submit your pitch.
Criteria:
• At least one underrepresented founder
• Founders can be male, female, or non-binary
• Your company is a tech startup across fintech, cybersecurity, financial inclusion, or another area aligned to Mastercard's business.
• Your company is based in the United States
• Your company is Series-A or earlier
• Apply to pitch by August 30th
What's next?
Submit your pitch here