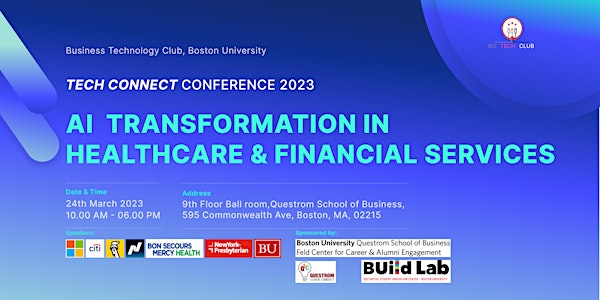 Great news ! The Business Technology Club at Boston University is thrilled to unveil the Tech Connect 2023 Conference, which focuses on groundbreaking AI transformations in Healthcare and Financial Services! 🎉When: March 24th, 10AM – 6PM
Where: 9th Floor Ballroom, Questrom School of Business, Boston University, 595 Commonwealth ave, 02215
The Tech Connect 2023 Conference organized by Biz Tech Club, Boston University is focused on showcasing the latest AI technology innovation in the healthcare and finance industries. We are thrilled to bring together industry experts, thought leaders, and innovators to explore the advancements in AI and their impact on these critical sectors.
Throughout the event, attendees will have the opportunity to learn from top AI technology and healthcare and finance experts. Our discussions will delve into the ways in which AI is driving innovation and transforming these fields, while also addressing the challenges and opportunities ahead.
Regardless of whether you're a healthcare professional, finance expert, AI developer, or just curious about the newest trends and technologies, this conference is a must-attend event! To secure your place, purchase your tickets through the link below. 🔗💻
Great opportunity to learn, engage, and network!Additionally, enjoy complimentary snacks, lunch, and a drink while connecting with professionals from these industries. 🍴🍹🤝Don't miss out on the chance to discuss the opportunities and challenges that lie ahead and discover how AI technology drives innovation and shapes the future of these crucial sectors.